John Deere Tech Program

We're always looking for passionate, qualified employees and the John Deere Tech Program is a great way to begin your career with Heritage Tractor. The world's population is projected to reach 9 billion by 2050. That means a massive need to build urban infrastructures and increase agricultural output. The need has never been greater to ensure customer's equipment remains operational and productive. This is your opportunity to be a part of the Heritage Tractor team.
WHAT?
Students in the John Deere Technician Training Program will earn an Accredited Associate Degree in Applied Science. The two-year John Deere Tech Program divides your training between classroom, lab, and on-the-job training to prepare you for a career as a John Deere technician.
WHY?

For more than 180 years, the name John Deere has been synonymous with quality, innovation, and integrity. There are 24 Ag & Turf Tech Program training locations in the U.S. and Canada, including Southeast Community College in Milford, NE and Fort Scott Community College in Fort Scott, KS.
WHO?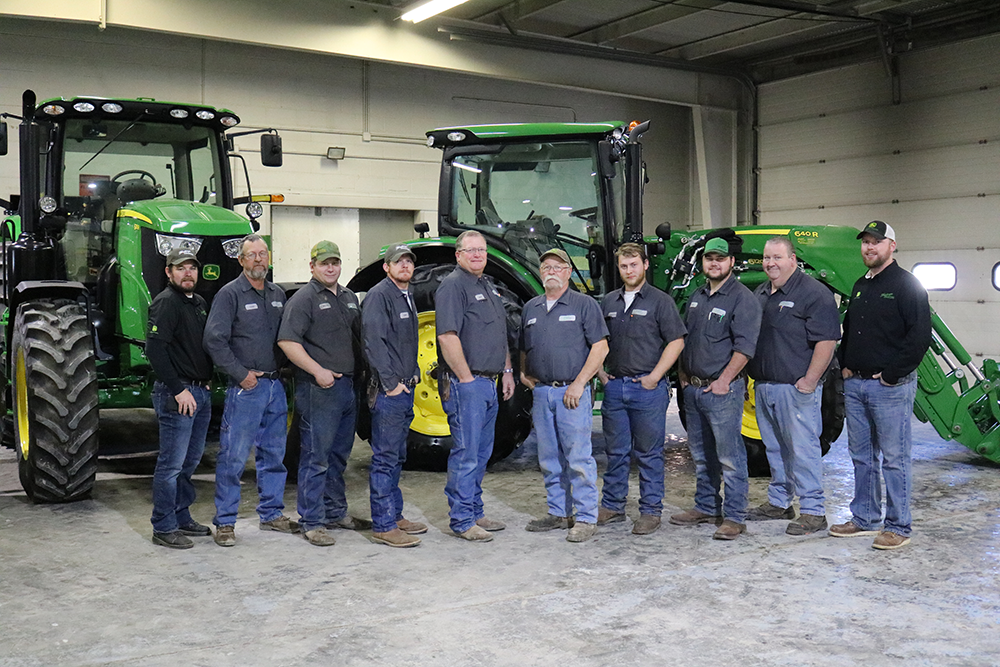 Students highly motivated and interested in technical careers including Diesel Engines, HVAC, John Deere, Agricultural Technologies, etc. Program courses include diesel engines, electrical and hydraulic systems, precision technology, and more.
---
Steps to Starting Your Sponsorship

---
After Graduation

JD Tech graduates are John Deere Core Certified in Electrical & Hydraulic systems and Service Advisor Diagnostics, which qualifies them to take many more advanced training courses. After successfully completing the program, graduates will begin full-time employment at Heritage Tractor, as well as, start receiving tuition reimbusement.
More than just mechanics, our equipment technicians are a key part of keeping everything from the mower to the combine running their best. Students can be confident they aren't just taught to memorize, the skills they learn allow graduates to pursue life-long careers as mechanics, diesel mechanics, or specialized engine technicians.


---
Frequently Asked Questions


Q: How much will I make?
A: During school, students are offered a paid internship with competitive wages. Performance reviews are administered for pay increases. Students will receive tuition reimbursement, employee discounts, and tool reimbursement upon completion of the program and transition to full-time status.


Q: What are the benefits?
A: Upon graduation, students who meet the criteria are offered full time employment with benefits including insurance (medical, dental, vision, life and disability), tuition reimbursement, paid vacation, and 401K with company match. Questions and more details on benefits can be directed to HR@HeritageTractor.com.


Q: What is included in tuition reimbursement?
A: Student must begin school with a signed sponsorship agreement from Heritage Tractor. Once a student graduates with an associate degree, minimum 2.5 GPA and passes the performance review, they will be reimbursed for tuition and cost of books over their first 24 months on the job (1/24th per month). The student must stay employed for the full 24 months to receive the full reimbursement.


 Q: What tools are included/needed?
A: Heritage Tractor offers a 25% discount off John Deere tools with an additional $1,500 tool reimbursement. Students can contact their supervisor for more information.


 Q: What does a typical workday include?
A: A typical workday includes diagnosing equipment, ordering parts, and repairing equipment. Technicians must also maintain a clean workstation and follow all shop safety protocol. An 8-hour workday includes a one-hour lunch and two 15-minute breaks.
Resources
---
Request More Information