John Deere 1025R for Sale in West Plains, MO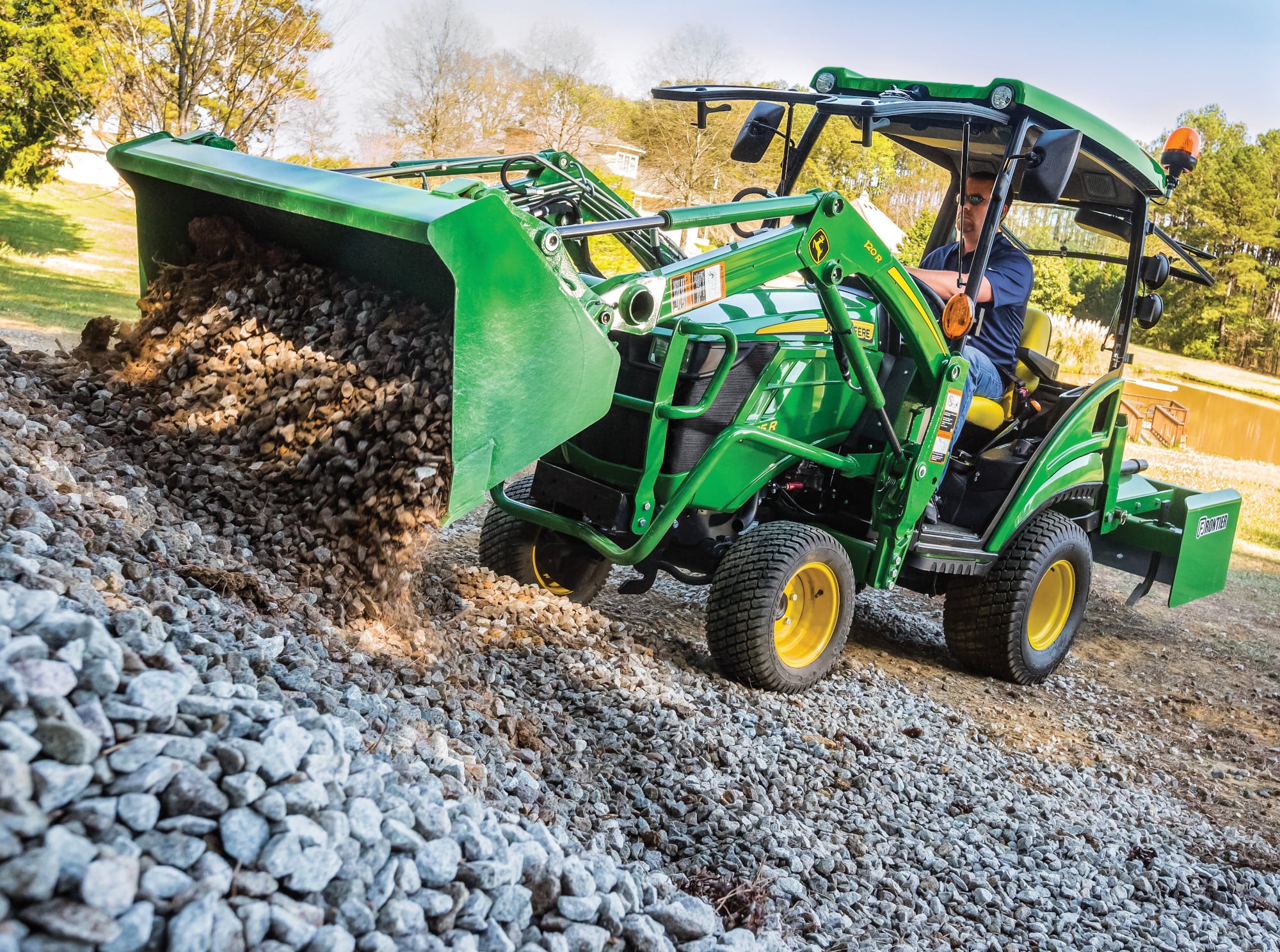 The John Deere 1025R Sub-Compact Tractor has become an increasingly popular asset for homeowners in West Plains, MO. Low, affordable prices coupled with premium features make these tractors highly coveted. Features like cruise control and fender-mounted lights keep efficiency at an all-time high.
What makes the John Deere 1025R stand out from the competition? Adding to the list, the John Deere 1025R places a heavy focus on productivity. All of the controls are easy to learn and simple to operate. One of the 1025R's biggest advantages is its easy implement swaps. By using the iMatch Quick-Tatch front hitch, you can detach and attach implements in under a minute. No pitch points, no hassle.
Shop the John Deere 1025R For Sale
---
4 Ways the John Deere 1025R Can Improve Your Land
Manage The Yard

With the right attachments, the John Deere 1025R can get your weekly mowing job done in a breeze. The AutoConnect Mower Deck allows operators to attach without even leaving the seat. Unlike other mower decks, all you have to do is drive up and wait until the mower deck clicks into place.

When it comes to pesky brush that doesn't seem to budge, rotary cutters are great assets to keep around. Their sharp blades are able to shop through small trees tough grass and leave nothing but a smooth, consistent cut behind.

Clean Up The Landscape

What's a yard without some scenery? The John Deere 1025R is compatible with several implements that are designed to improve your landscape. While good for just about any chore out there, a front-end loader can be used to quickly transport material like mulch, logs and rock around your land.

With a bucket attachment, you can freshen up your flower beds by dumping new mulch to keep plants from drying out. You an also disperse gravel to fill out a new driveaway. Attaching a box blade or a rear blade to your 1025R will allow you to level out any gravel or dirt road to keep your roads safe and smooth.

Build a DIY Project

Now for the fun. The John Deere 1025R is the perfect sidekick for any do-it-yourself projects. With dozens of implements available, the sky's the limit. Some common projects we see our customers take on include building retaining walls, digging up space for a swimming pool, and building sheds. Some popular implements you can get started with are fork pallets, backhoes, and post hole diggers.

Plant a Garden

Whether you are planning for a big garden or a small farm plot, the 1025R tractor has enough horsepower to pull smaller farming implements like the rotary tiller. This heavy-duty implement is able to prepare soil for simple planting and a healthy harvest. You can also use a posthole digger to plant small trees and other greenery into the ground easily.
---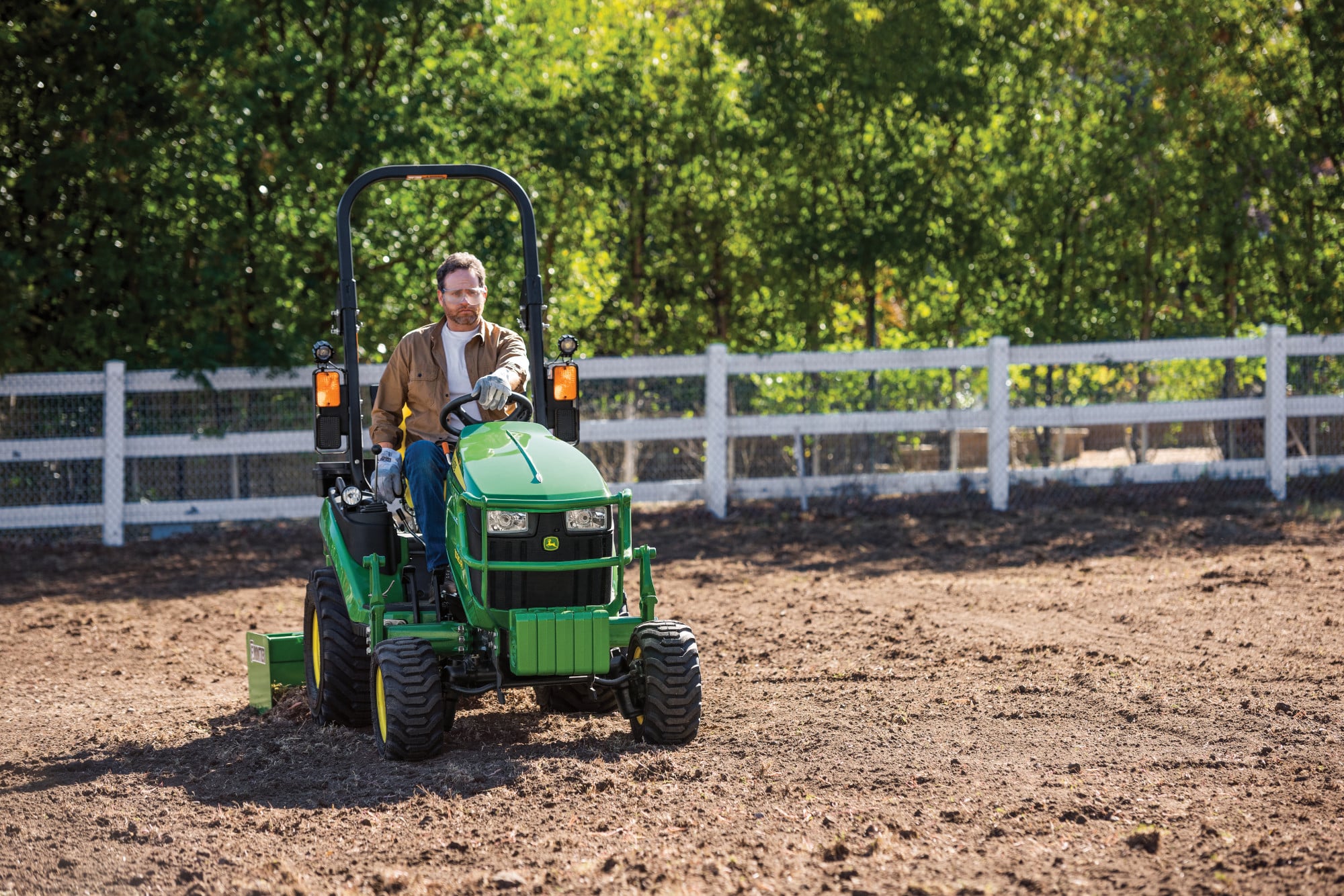 Why Heritage Tractor?
With our customers as our number one priority, our team at Heritage Tractor works hard to make sure you stay happy. Whether that's helping you through the purchasing process or providing long-term support, we build relationships with each customer that steps into our store. If you're looking for a John Deere 1025R for sale in West Plains, MO, you'll find great deals, great financing, and great service here at Heritage Tractor.
Visit Heritage Tractor in West Plains, MO