John Deere 1025R for Sale in Lebanon, MO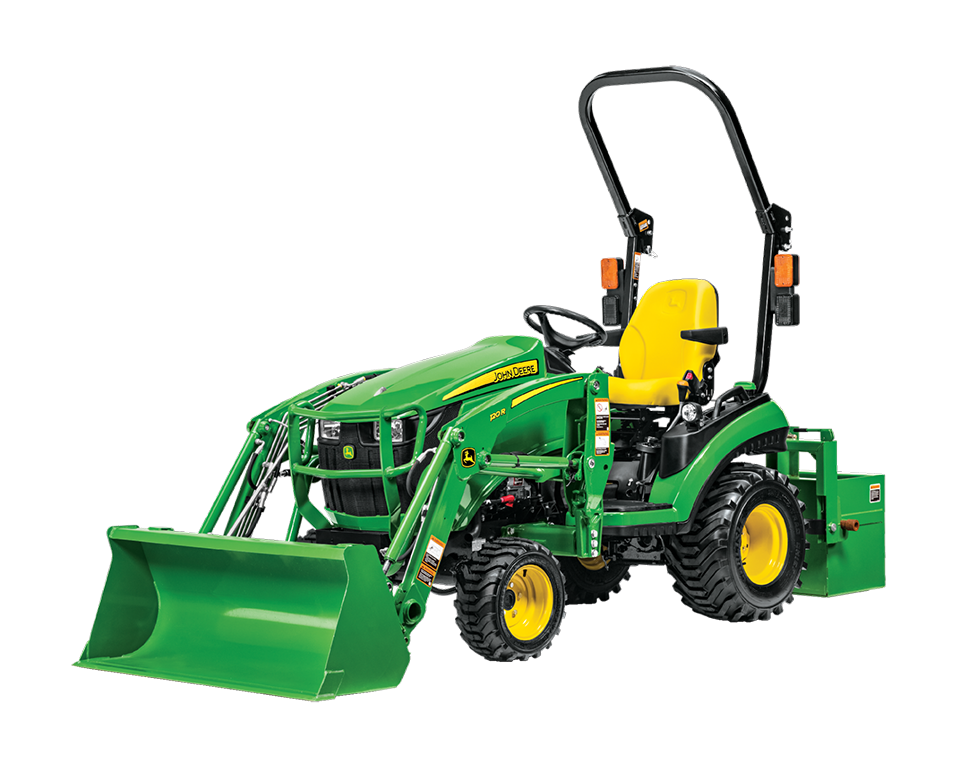 Specifications:
Engine Power: 23.9 hp
PTO Power: 17.2 hp
Hydrostatic Transmission
Standard Cruise Control
Open Station or Cab
Standard 4WD
10 Year Warranty (Heritage Tractor Exclusive)
---
Frequently Asked Questions:


Is the John Deere 1025R a good tractor?
If you are looking for a small tractor to use around your property for tasks like landscaping and garden, the John Deere 1025R is a great fit. That is what these tractors are designed for. Their compact size makes them perfect for working in tight spaces and they are light enough they don't rut up the ground when you're doing tight turns. These tractors are easy to use and maintain which makes them a great choice for first time tractor owners. With TwinTouchTM direction foot pedals, these tractors don't require any clutching. Just push the appropriate direction you want to go, and just like that you're off.
Is the John Deere 1025R four-wheel drive?
Our John Deere 1025R tractors come equipped with four-wheel drive and power steering. You point the way, and the tractor will forge ahead. This setup allows you to mow wherever you need and have with confidence that the tractor will pull through.
How much can a John Deere 1025R lift? - hitch and loader
John Deere 1025R tractors have a loader lift capacity of up to 553 lb when using a 120R Loader and a lift capacity of up to 758 lb 24-inches behind the link arms. These tractors are designed for keeping up with your landscaping and gardening needs as well as helping you keep your property well maintained. You can effortlessly take on tasks like leveling your driveway, putting in fence posts and more
What attachments are available for John Deere 1025R tractors?
John Deere currently offers 14 different implements for 1025R tractors as well as numerous attachment options. Wanting to freshen up your yard? Take a look at the core aerator and overseeder. Tired of feeling like you're driving over a washboard every time you use your driveway? Check out our rear box blade. Below is a list of implements John Deere makes for 1025R tractors.
Drive-Over AutoConnectTM Mid-Mount Mower Deck
Loaders
Rotary Cutter
Rear Mount
Rear Mount Grooming Mower
Front Blade
Standard-Duty Tiller
Frontier One-Row Cultivator
Backhoe
Post Hole Digger & Augers
Core Aerator
Overseeder
Rear Box Blade (3 Point)
Land Plane