STIHL Dealer in Jefferson City, MO
Heritage Tractor is committed to bringing you the best equipment for your needs, which is why we're happy to offer a full line of STIHL chainsaws and landscaping tools. Long renowned for their innovation in electric chainsaw technology and their unwavering commitment to quality, STIHL is a leader in both home and professional quality tools. Whether you need a small chainsaw for home tree maintenance or a powerful professional quality logging saw, Heritage tractor in Jefferson, MO is the STIHL dealer for you.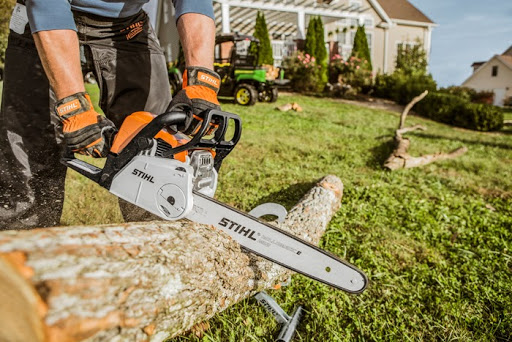 ---
Chainsaws
The STIHL brand is synonymous with chainsaws. It's where they got their start and, to this day, it's the product they are most known for. As you would expect, this means they have a huge array of saws, each model perfect for a specific niche. Whether you need an electric model, battery-powered or gas-powered saw, STIHL has you covered. And they still make all their guide bars and chains in-house to assure you the highest possible quality. There are very few more surefire investments you can make than adding a STIHL chainsaw to your toolshed.
Yard Boss
In addition to making excellent chainsaws, STIHL also makes the Yard Boss, a multitool system that handles most landscaping tasks around your house. By utilizing a single, universal power system and a variety of attachments, the Yard Boss can go from cultivator to aerator to edger, sweeper and trimmer in no time at all. This frees up an incredible amount of clutter and saves time by allowing you to have one powerful tool, ready to handle all your tough landscaping tasks.
KombiSystem
Similar to the Yard Boss but for lighter chores where the Yard Boss might be overkill, the STIHL KombiSystem is a multi-use motor that attaches to a variety of tools. You can have a trimmer, edgers, and blower all in one tool which is perfect if the more rough-and-tumble landscaping chores like tilling up a flower bed with a Yard Boss aren't something you're going to tackle. You can still enjoy the simplicity and time-saving advantages of the STIHL KombiSystem.
No matter what handheld, powered tool you might need, STIHL makes the top-of-the-line version of it. Swing by your Jefferson City, MO Heritage Tractor dealer today and see everything we have to offer as your local STIHL dealer