Poultry Equipment in Harrison, AR | Heritage Tractor
The confines of a poultry house and the specific needs of the poultry industry require more specialized equipment than other operations. To that end, John Deere has developed a number of specialized tractors to operate in low clearance situations, like the 5090EL. It's one of the most popular John Deere specialty tractors in the poultry industry. So if you're looking for John Deere poultry equipment in Harrison, AR, like the 5090EL, then come by Heritage Tractor today!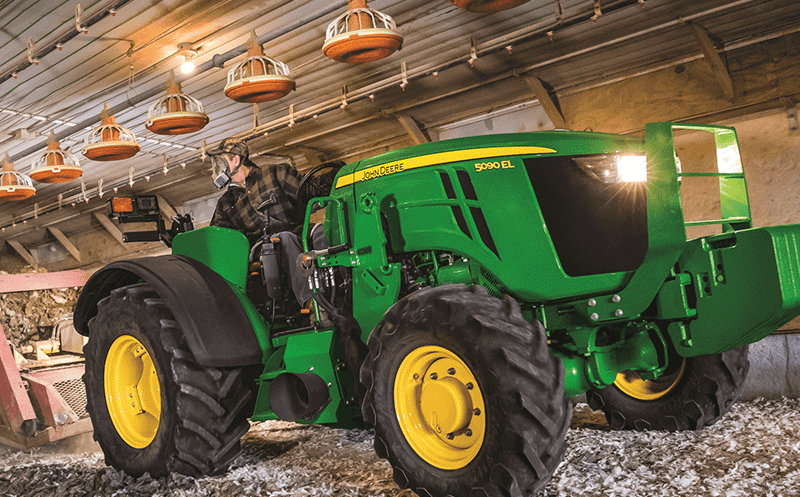 ---
The most obvious benefit of the John Deere 5090EL is its low, 69-inch operating height. This low clearance allows you to work under the low ceilings of a poultry house without any worry. This low height is made possible with a lower operating station, lowered ROPS points and an available side exhaust. But this lowered height doesn't mean lower performance. One of the reasons the 5090EL is so popular is that it not only manages low clearance demands but retains enough power and performance to handle tasks outside the poultry house as well.
Because the 5090EL is based on the extremely capable 5 Series platform, it has a powerful 4 cylinder engine with 90 horsepower. It also features a robust torque reserve to power you through tough spots. This is combined with your choice of 12F/12R or 24F/12R PowrReverser transmissions. PowrReverser transmissions feature a change of direction lever right on the steering column, which allows you to make quick, easy changes with the flick of a finger. Perfect for work that requires frequent change of direction in confined spaces.
Just like its full-sized brothers, the 5090EL also has a highly capable PTO with an economy PTO feature that allows you to use a lower engine speed, and thus less fuel and quieter operation, for your light PTO work. But you can also fire it up to full strength and take advantage of the huge variety of implements available to a full-frame tractor.
If you're looking for the ultimate tractor for use with your poultry operation, then check out the John Deere 5090EL. Swing by your Harrison, AR Heritage Tractor location today and let our staff show you everything this remarkable tractor has to offer.