NET AND SILAGE WRAP PRODUCTS
When it comes to keeping your hay in pristine condition, there are lots of options out there: surface wrap, plastic silage wrap, or the industry exclusive John Deere B-Wrap. No matter which solution you choose, the team at Heritage Tractor has you (and your hay) covered. Heritage Tractor carries a complete line of hay and forage wrap products for all your needs.
Financing is always available through a John Deere Multi-use account.Plus take advantage of our pre-season sale in November and December. Call your local parts experts for more information.


JOHN DEERE B-WRAP

Our latest innovative product in the Crop Packaging Products market is a real game changer.
The revolutionary John Deere B-Wrap®, a joint development by Tama and John Deere, is made especially for bales stored outdoors in tough weather conditions. It protects your valuable hay crop from rain, snow, and ground moisture. You get barn-quality hay without the barn.
Use B-Wrap® to preserve your best second or third crop, the hay you need to carry
through winter, or the hay you plan to sell.
B-Wrap® is also great for preserving straw and other crop residues.
B-Wrap® works with John Deere 7 Series, 8 Series, and 9 Series Round Balers that are equipped for netwrap. All you need is a dealer-installed B-Wrap® kit.


SUNFILM STRETCH FILM

SunFilm® Stretch film has incredible damage resistance which allows excellent puncture, abrasion and tear resistance for outdoor storage and it reduces storage and operational cost as there is no need for indoor storage.
The reflective white film reduces heat buildup, which avoids loss of quality feed (although Black is available) and it is specifically treated to resist ultra violet light degradation for up to one year.
It has excellent cling – wraps bales air tight for the duration of storage. In addition it helps you to prevent attacks by bugs, mold, and harmful bacteria.
Recommendations for best results:
Film should be pre stretched to 55%-60%.
Bales are wrapped with a 50% overwrap and minimum of four layers (2×2).
Wrap Bales at a 50%-60% moisture content for best results.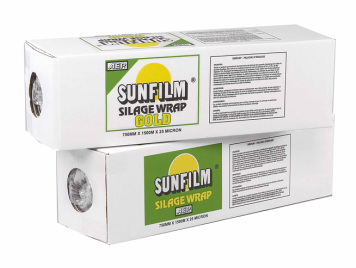 SunFilm White
| | | |
| --- | --- | --- |
| Size | Color | Mil. |
| 20" x 6,000' | White | 1.0 |
| 30" x 5,000' | White | 1.0 |

SunFilm Gold

| | | |
| --- | --- | --- |
| Size | Color | Mil. |
| 30" x 5,000' | White | 1.0 |
SunFilm GoldMax



| | | |
| --- | --- | --- |
| Size | Color | Mil. |
| 30" x 3,300' | White | 1.5 |
LARGE SQUARE BALE TWINE
Reduces your cost and increases your baler's potential! Exclusively available through John Deere dealers.
Features include:
Uniform spool shape and consistent yarn to ensure trouble-free running in the baler.
Guaranteed length.
Unrivaled knotting performance.
Special UV light inhibitors to withstand intense exposure over long periods.
Unique color combination for bale identification.
Compatible with ALL large square balers.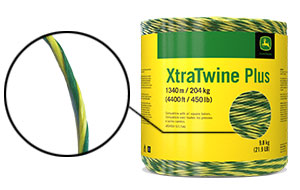 BRAZILLIAN SISAL TWINE
Premium-quality sisal twines from COSIBRA®, Brazil's most experienced twine manufacturer. Brazil's extra-long and strong fibers ensure uniform knotless twines for both square and round bales.
Features include:
Extra-long fibers for consistent trouble-free baling.
High tensile and knot strength.
Specially treated to resist rodents and insects.
Also available untreated for silage.
Biodegradable.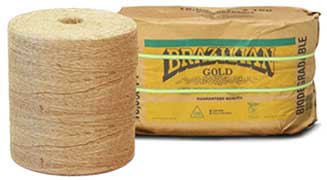 CLEARFIELD POLYPROPYLENE FOR ROUND BALES
Features include:
Combines the unique benefits of plastic and sisal twines in one product.
Lasts longer then sisal twine but unlike plastic twine will eventually decompose.