John Deere Zero-Turn Mowers for Sale in Missouri | Heritage Tractor
When it comes to maintaining the perfect lawn, there are no better tools out there than a John Deere zero-turn mower. These mowers are built to handle large lawns quickly while maintaining a quality cut and keeping you comfortable. With three different model lines for you to choose from, there's a John Deere zero-turn for you. So if you're looking for a John Deere zero-turn mower for sale in Missouri, then drop by your local Heritage Tractor location today!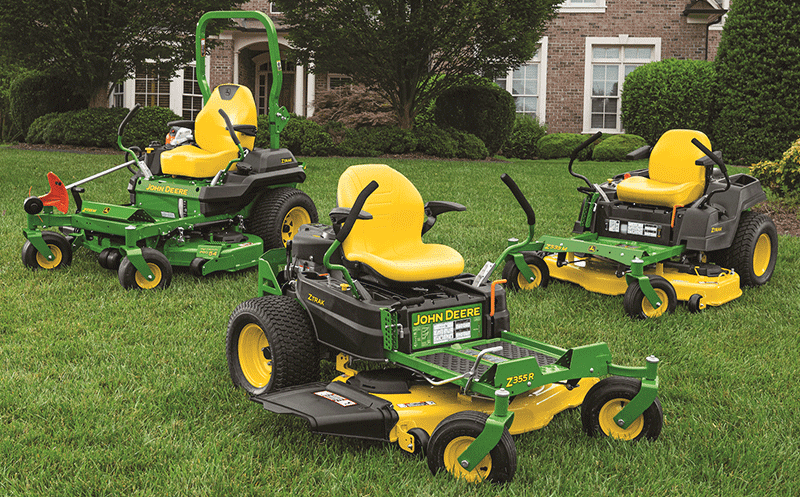 ---
Good - The Z300 Series
The John Deere Z300 Series zero-turn mowers offer everything you need in a zero-turn mower and nothing you don't. Although this line is basic in both form and function, that doesn't mean it's lacking in performance. You still get the same high-quality mowing decks and reliable engine performance that would expect from a machine with the John Deere name.
Good - The Z500 Series
The Z500 Series zero-turn mowers take everything good about the Z300 and turn it up a notch. Higher capacity mower decks, faster mowing speeds and more creature comforts can all be found here. If you've got a bit larger of a lawn to tackle and want to stay comfortable while you mow it, then the Z500 is for you.
Better - Z700 Series
If you've got a lot of land to handle or maybe you just like the idea of having some commercial features on your residential mower, then the Z700 is right up your alley. Featuring the fastest forward mowing speed, and features like an adjustable suspension seat, it's built for handling tough acreage and large area mowing chores, without having to buy a commercial zero-turn to get professional-level features.
Best - Z900
If nothing but the very best will do, then consider the Z900 commercial ZTrak zero-turn mowers. This line of mowers is built to mow all day, every day in a wide variety of environments. So you'll get all the features you would need to make that a reality. For instance, you'll get adjustable suspension seats as well as comfort and convenience packages that put all the controls right on the handles. For work that requires various fuel types, there are gas, propane and diesel models of the Z900 available. And you'll get a wide variety of discharge options if different jobs require different approaches, like mulching or bagging.
No matter what level of zero-turn mower is right for you, our sales staff can help you get the model that fits your needs. Drop by your local Missouri Heritage Tractor location today!