John Deere Zero-Turn Mowers for Sale in Lawrence, Kansas| Heritage Tractor
John Deere zero-turn mowers are the ideal mower when getting your mowing done quickly is the name of the game. These mowers feature exceptional top speeds and wide mowing decks that reduce the number of passes you need to make and the time those passes take to complete. Depending on the size and scope of your property, Heritage Tractor is here to help you find a John Deere zero-turn mower for sale in Lawrence, KS that fits your needs.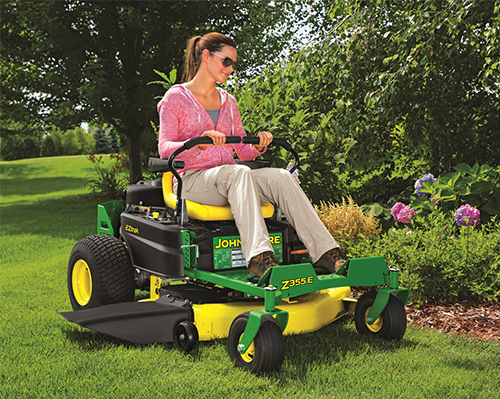 ---
The Z300 Series of zero-turn mowers is John Deere's entry-level mower for residential use. It comes with everything you need to get the job done, do it well and do it quickly. The Z300 series features top speeds of up to 7 mph, making quick work of large lawns. With mower decks of up to 54 inches wide, you won't need to make endless passes either. The decks are stamped from solid steel and feature a deep draw design with smooth curves to limit build-up that hampers cutting performance.
The Z300 also comes with 15 or 18-inch padded seats, an adjustable seat slide and vibration absorbing rubber floor mats. All of these features help you improve comfort and limit fatigue, letting you concentrate on getting the job done.
If you find that the Z300 Series isn't enough mower for you, then it's time to step up to the Z500. The Z500 Series brings more power to the equation, with top speeds of up to 8.5 mph. The deck size also skyrockets with this series, featuring deck sizes of up to 62 inches. Furthermore, these mowers are built with heavier, sturdier frame construction. This helps limit vibration, provide more comfort over rough terrain and give more traction, making sure more of the power is delivered to the ground.
The Z500 Series also features more in the way of operator comfort. Higher backed, adjustable seats with fully adjustable armrests make sure that you can maintain a comfortable posture all day. The seat is supported by a spring suspension to absorb shocks and bumps. Full-sized cup holders and a storage compartment even make sure that snacks are never in short supply.
If you need to mow a substantial amount of acreage and get it mowed fast, then the Z700 Series is for you. A top speed of up to 10 mph and 60-inch, High-Capacity PRO mower decks combine to make quick work of your mowing, no matter how thick the grass gets. With these kinds of speeds, you can get your acreage cut down quickly and easily.
But if you end up having to spend a long day mowing, then the Z700 is well equipped to make that as comfortable as possible. Outfitted with a Comfort Glide suspension, you can even get a fully mechanical seat suspension on the Z740R that lets you dial in your exact body weight to get a fully customized ride. The foot platform is also adjustable to three different positions to increase your comfort. When your done mowing, that same platform is removable, easing access to the deck.
No matter how large your lawn or how tough the grass is you have to mow, John Deere makes a zero turn mower that can handle it. From the economical and nimble Z300 Series to the powerful and fast Z700, there's a model for your application. Stop by Heritage Tractor today and let our sales staff help you take home a zero turn mower today.