John Deere 1 Series Tractors for Sale in Missouri
If you're looking for a tractor that can do it all on your Missouri homestead, look no further. Heritage Tractor has a couple for you to choose from! John Deere 1 series tractors are great for small property owners wanting a right-hand helper but in tractor form. Whether landscaping or gardening, these tractors are the perfect go-to. If tractors had middle names, the one series' middle name would be versatility.
Find Your Local Missouri Heritage Tractor
---
Tractors
There are two tractors in the 1 series lineup, the 1023E and the 1025R. The 1023E tractors are the most affordable and are equipped with all the "E"ssentials. As denoted by the last three numbers, these tractors have 23 horsepower(hp), which is how much operating power the machine has. The 1025R tractors have all the essentials the 1023E tractors have plus more bells and whistles. These tractors have 25 horsepower and have a heated cap option. The 1 series tractors are great for first-time tractor owners and small landowners. If you are new to tractors, the 1 series gives you a feel for what tractors are like and what sort of task you can tackle. For small landowners, these compact utility tractors are perfect for tackling everyday task.
Learn More About Compact Utility Tractors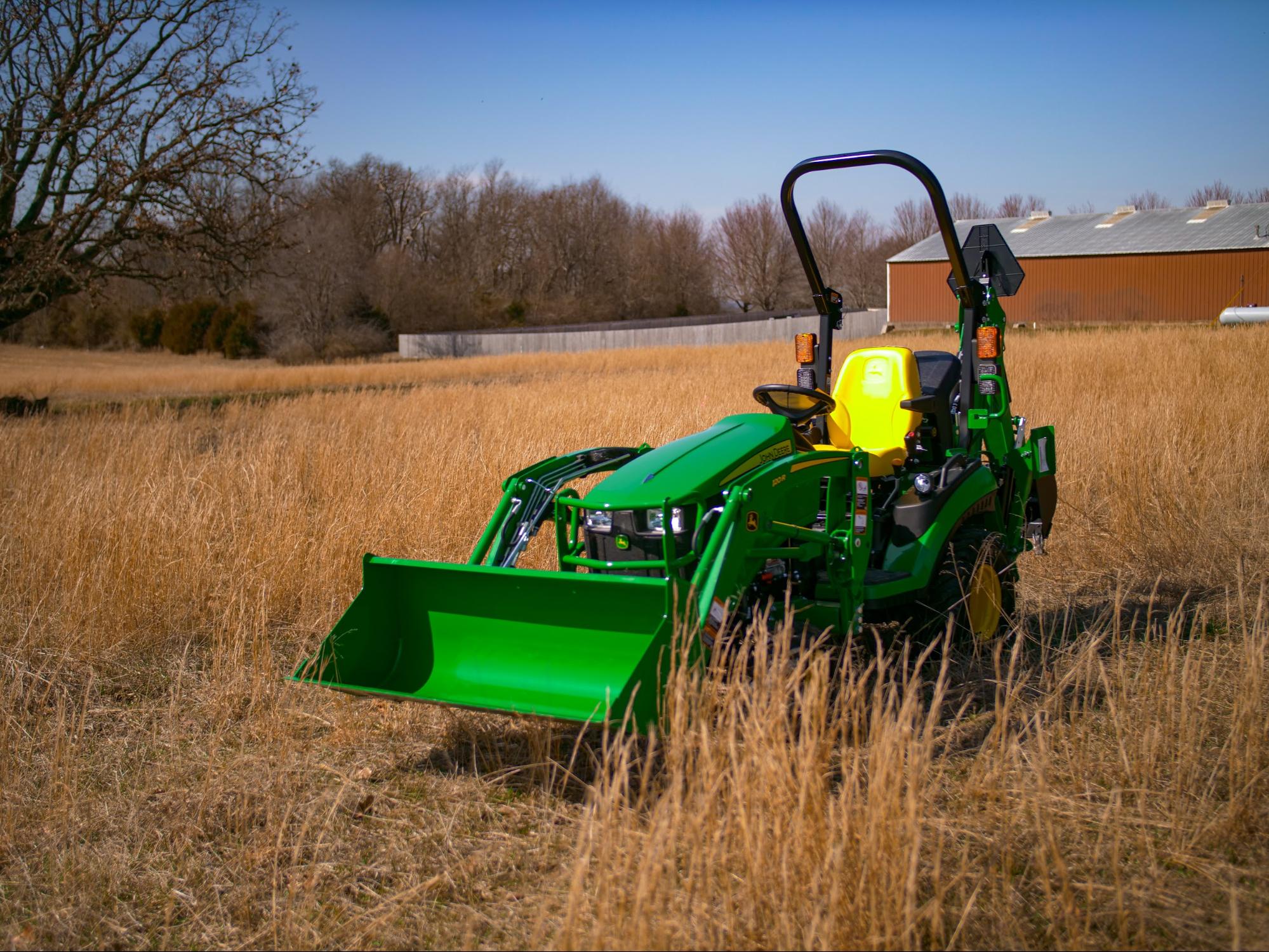 ---
Uses
The possibilities of uses for John Deere 1 series tractors are endless
Mowing the lawn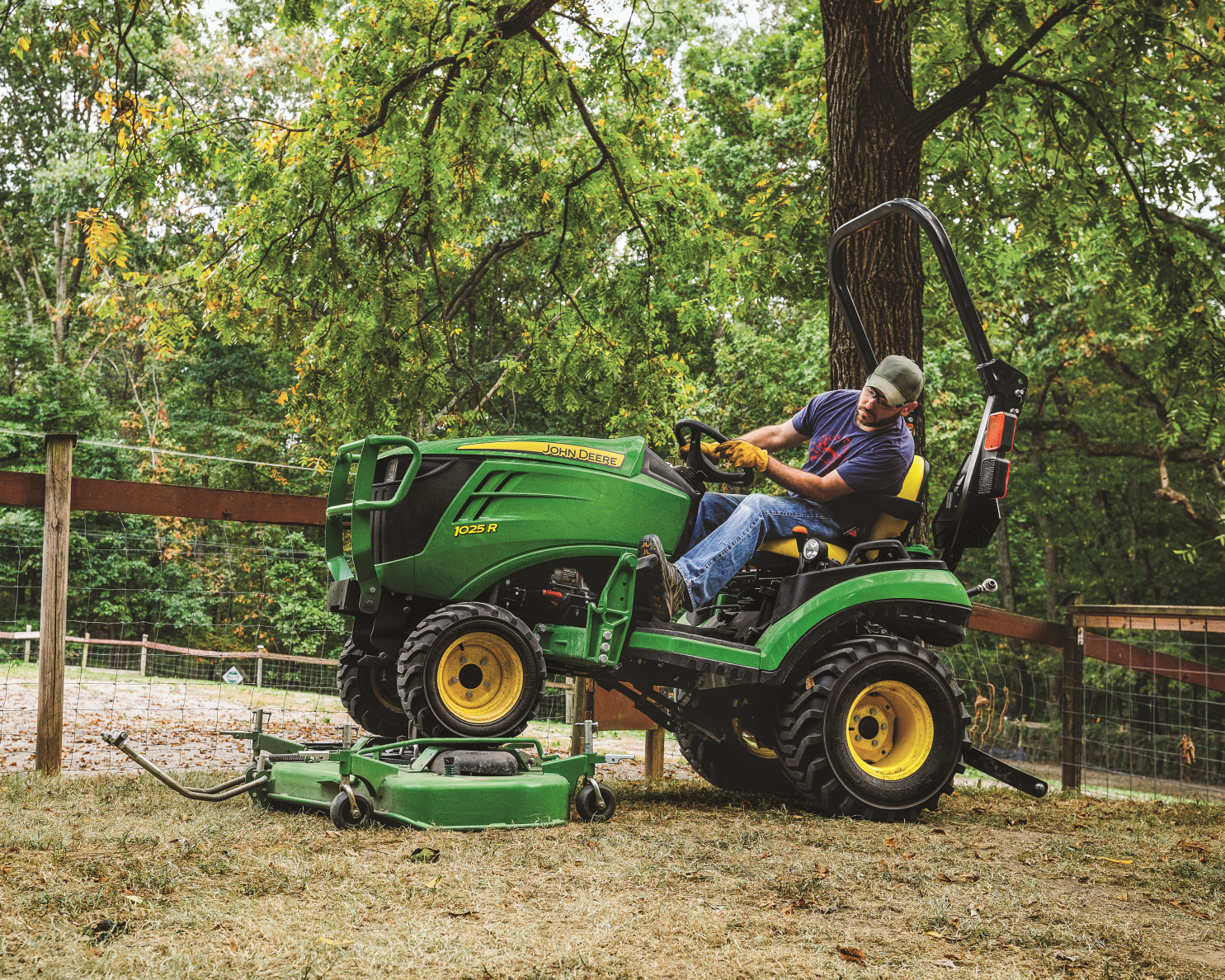 1023E and 1025R tractors come quipped with PTO hookups under the operator stations of the tractors. These hookups in combination with John Deere's Mid-Mount Drive Over AutoConnectâ"¢ Mower Decks make mowing hassle-free. Simply drive over the deck ont he dekc ramps, listen for the deck and PTO to connect to the tractor, set the gauge wheels, and you are good to go! The whole process takes a matter of minutes.
Clearing brush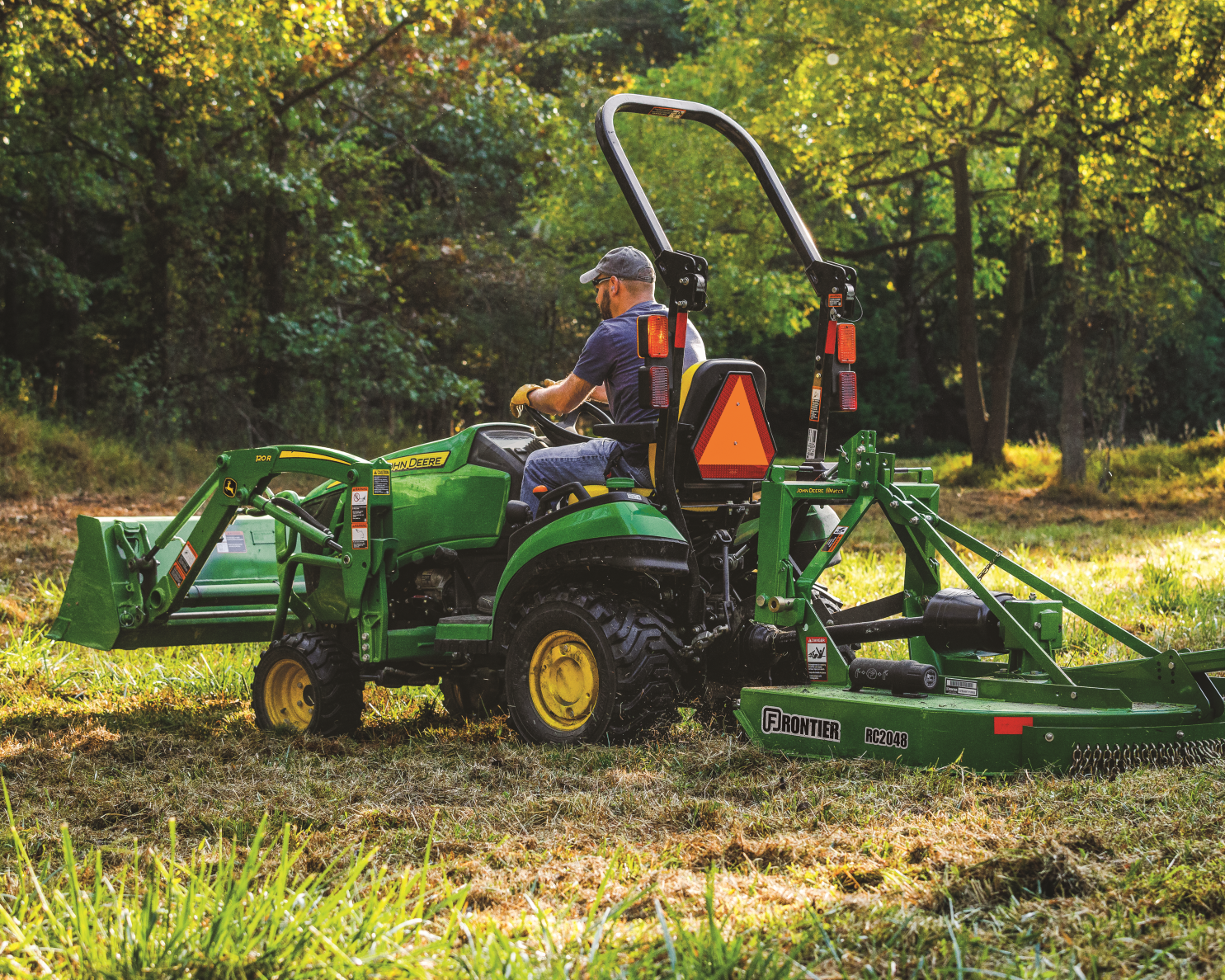 With the use of rear PTO hookups on the 1 series tractors and Frontier's rotary cutters, you can clear brush in a hurry. If you have any overgrown grass or weedy areas, these tractors are ready and able to tackle them, just drive the tractor and the rotary cutter will take care of the grunt work.
Preparing a garden
John Deere's 1023E and 1025R tractors are great for doing gardening prep work. With the assistance from John Deere's Standard Duty Tillers, breaking up the group for gardens is easy. You can count on these tillers to loosen even the toughest of soils so your gardens can have a stron gstart. The front loaders on the 1 series tractors are great for carrying garden supplies such as shovels, hoes, mulch (if you're doing a landscaping garden), seed, and plants.
Carrying materails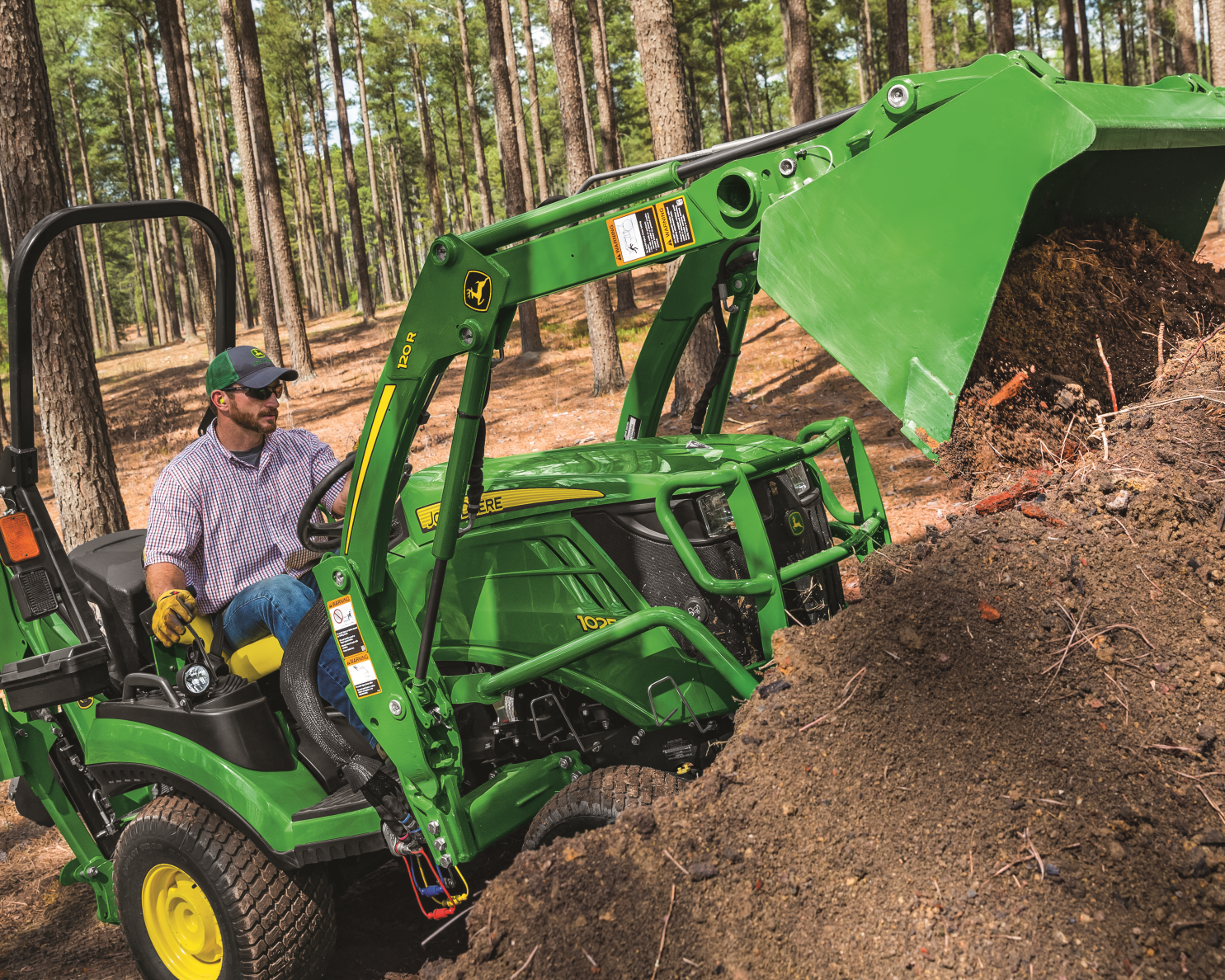 Whether you're needing to move wood or carry fencing materials, 1 series tractors are great helping hands. These machines are great at helping carrying the load. Pile these tractors' loaders full of limbs, debris, leaves, or working materials and keep moving.
---
Heritage Tractor is here to meet your tractor and implement needs! Make tending to your property a task you look forward to instead of merely a task that needs to be done, by getting a John Deere 1 series tractor. If you aren't sure which tractor best suits your needs or you want to chat with someone about it before purchasing, contact our experts at Heritage Tractor.
Contact Heritage Tractor