John Deere Tractor Packages
Image this, a John Deere 1025R tractor with a 120R Loader and a 260B Backhoe. No, wait. Image a John Deere 3025E tractor with a 300E loader and a BB5060 Box Blade. Both these tractor packages and more are available at Heritage Tractor. Where's the fun in having a tractor if you don't have any implements to use with it? We want to make sure you purchase a John Deere tractor, it is as useful to you as possible. This is why we have several tractor packages for you to choose from. Each packages a combination of tractor and various implements.
Heritage Tractor's Tractor Packages
---
The Packages
We have tractor packages for several of John Deere's 1-5 series tractors. These tractors are the perfect size for homesteads and small farms. Whether your main chore is cutting the lawn or moving debris and putting in fence rows, we have packages that will help you get the job done.
Lot For A Little Package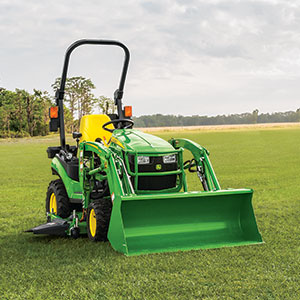 John Deere 1023E
+ 120R Loader
+ 60 inch AutoConnect Deck
Lot For A Little Package
The DIY Package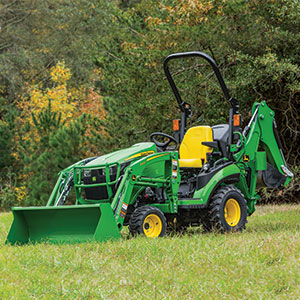 John Deere 1025R
+ 120R Loader
+ 260B Backhoe
The DIY Package
The Sunflower Package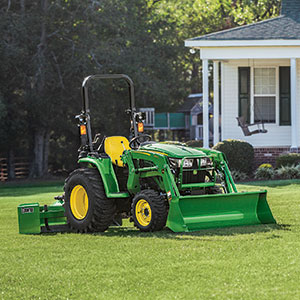 John Deere 3025E
+ 300E Loader
+ BB5060 Box Blade
The Sunflower Package
Weekend Warrior Package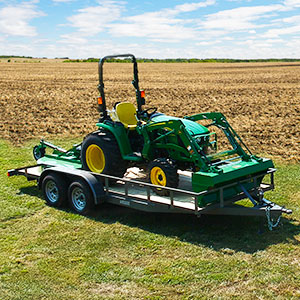 John Deere 3038E
+ 300E Loader
+ RC2060 Rotary Cutter
+ 18" Trailer
Weekend Warrior Package
Star Spangled Package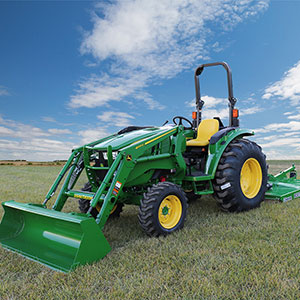 John Deere 4044M
+ 400E Loader
+ RC2072 Rotary Cutter
Star Spangled Package
Cattleman Package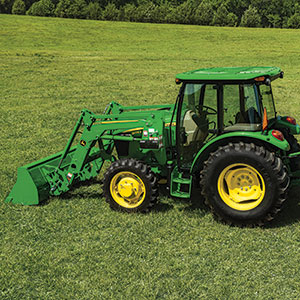 John Deere 5075E
+ Cab
+ 520M Loader
Cattleman Package
---
These are just a few of the tractor packages we have to offer! Check out our other packages online or contact our sales team. Don't see what your looking for? We can customize a package to meet your needs.
Check Out Our Other Package Deals
|
Contact Heritage Tractor's Sales Team
---
Why Buy Tractor Packages?
Our package deals save you money and time. We have grouped together some of the most commonly used implements together with our 1-5 series tractors in order to make shopping easier for you. You don't hvae to hunt down the tractor and implements you want, then try to piece together to find out how much it's going to cost. We've already done the leg work for you. Each of our packages come with 0% financing and the ability to add on our Heritage Exclusive 10 Year Warranty.
If you are looking to shop the best and most affordable tractor packages, shop Heritage Tractor, online or in person, whichever suits you best!
Heritage Tractor Dealership Locations