John Deere Lawn Equipment in Topeka, Kansas | Heritage Tractor
Maintaining a lawn is supposed to be a relaxing way to connect with your living space, not a stress-filled chore filled with broken down, poorly designed equipment. That's why Heritage Tractor stocks a full line of John Deere Lawn equipment in Topeka, KS. Take all the hassle out of lawn care with John Deere's legendary reliability and get back to enjoying your time in the garden.
Click here to view our entire selection of John Deere lawn equipment
John Deere offers 3 different approaches to lawn care. The tried and true ride-on mower offers a huge variety of models to choose from, with power production, cutting width, and option lists to fit any need and budget. The iconic zero-turn motors are also available, bringing the commercial-level capability to a residential configuration. Finally, true to John Deere's legacy, they offer a small but capable selection of subcompact tractors to handle not only your mowing but also any landscaping projects you can think up.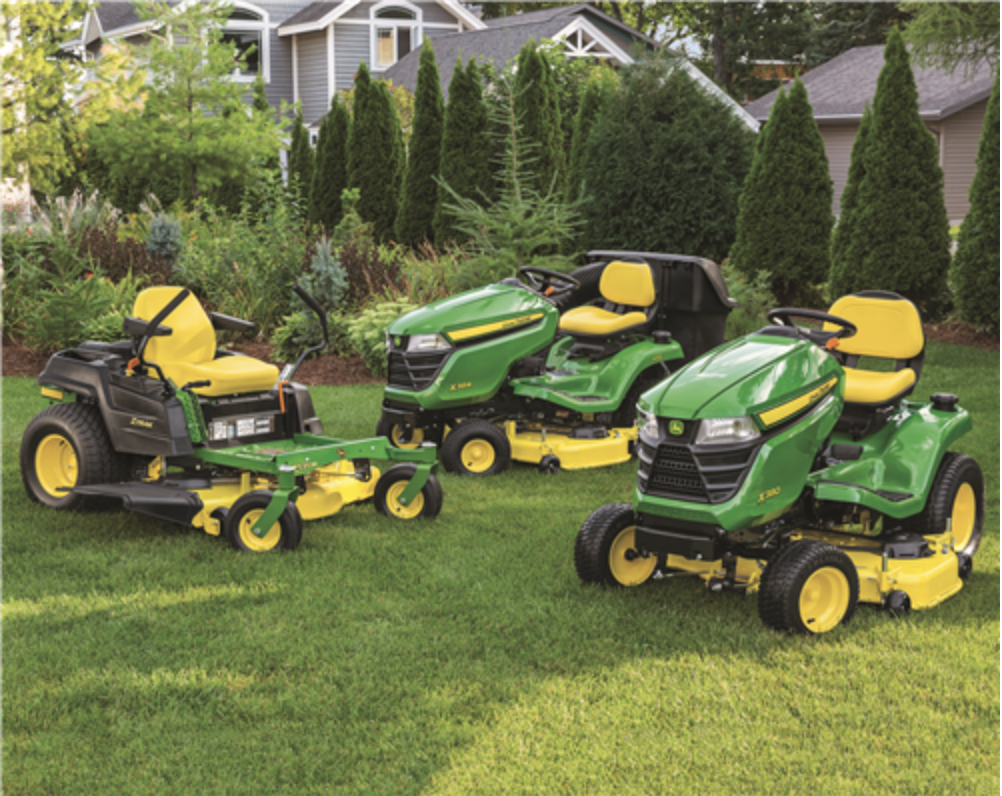 ---
John Deere offers a huge range of models and configurations of ride-on mowers but no model exemplifies everything these mowers have to offer like the X500 Series. The entire line of X500 models is designed to give you everything you need from a mower in a seamless package of comfort and convenience. Most models pair hydraulic power steering with a 4-wheel steering system to keep the mower nimble with an incredible turning radius, despite a wider stance for increased stability on uneven terrain. If the terrain gets really rough, the X500 series also features a foot-operated traction assist system that locks the rear transaxle, ensuring both wheels work together.
All this comes without sacrifice to cutting power and ability. The whole X500 series features a 25 hp engine and a 48-inch cutting radius, helping it make quick work of large lawns. Top it all off with a 4 year/500 hour warranty and the X500 truly does capture everything that makes John Deere mowers great.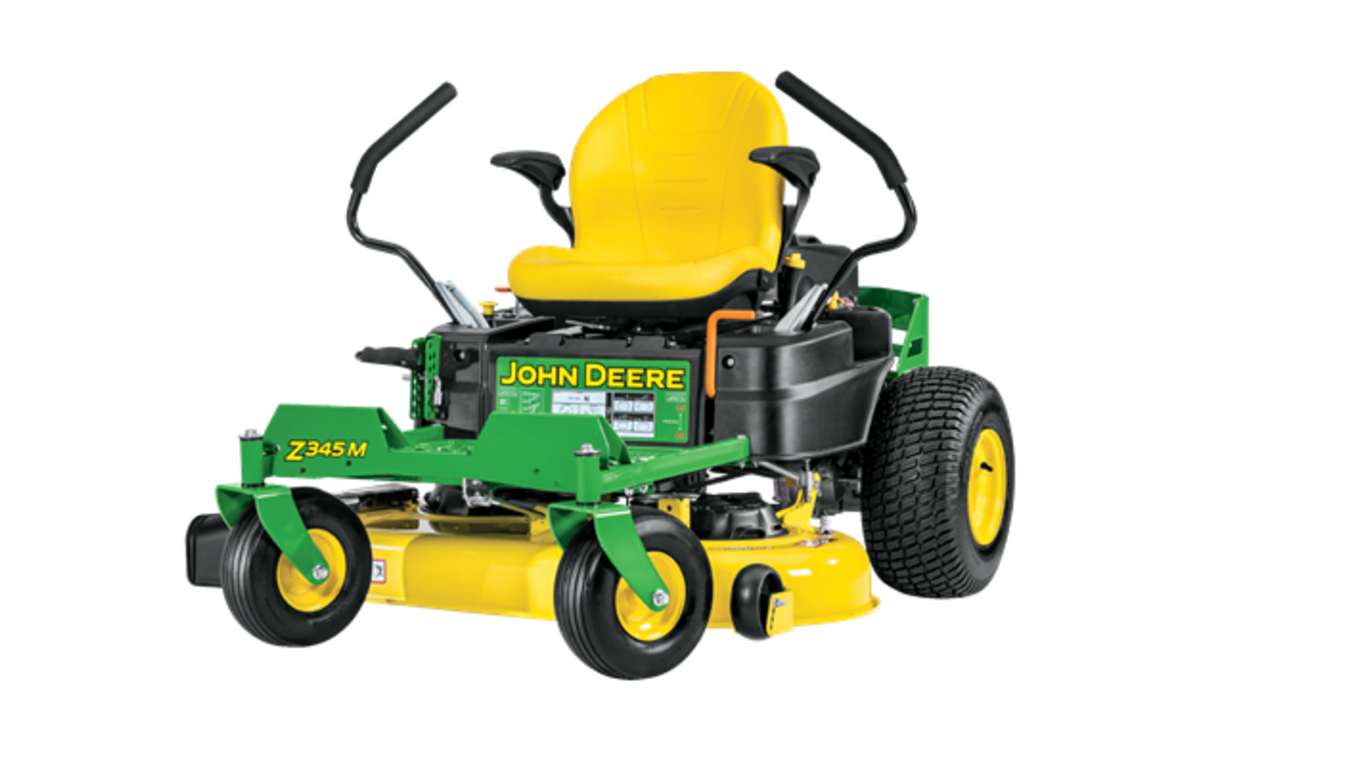 If you have a large plot or need expert-level precision to mow around extensive landscaping, then you'll be glad to know that John Deere also manufactures a wide range of zero-turn mowers. Offered as their Residential ZTrak line, these capable mowers bring nearly limitless mowing power to your lawn.
The Residential ZTraks are built to help you mow better, faster. With engines ranging from 20 to 25 hp and a cutting radius up to 60 inches, fast is indeed what they do. With 8 gallon fuel tanks you can minimize the amount of time you have to spend fueling while spring suspended seats keep you comfortable all day long. Opt for the extra comfort-glide seat suspension for the bumpiest terrain and there will be no mowing job that you can't take head-on.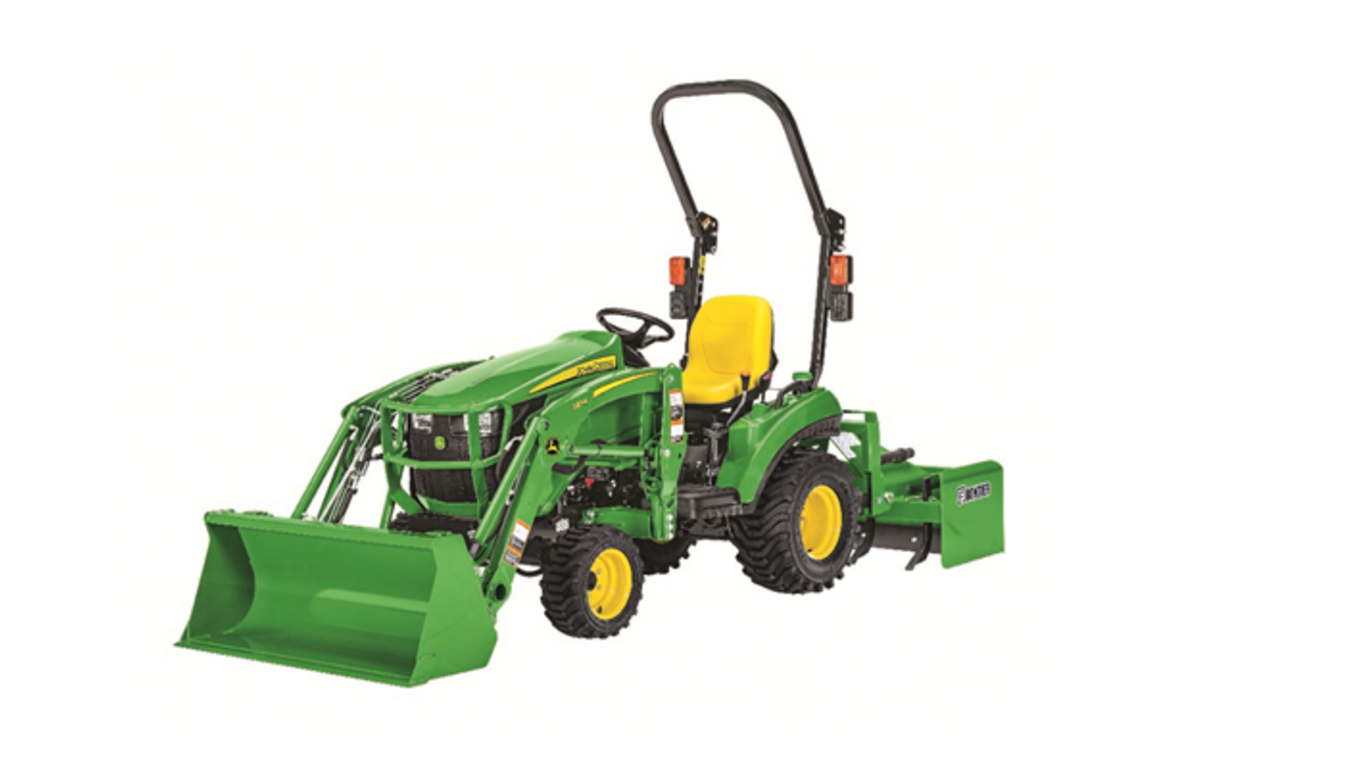 The 1 Series is for the aspirational homeowner with big projects in mind. There isn't much these tractors can't do. While they are capable mowers on even the largest and roughest of land, their real strength lies in their ability to pull double duty as your around-the-house tractor. This mini yet mighty tractor features a classic three-point hitch and mid-mount mower for all of your classic implement attachments. You can even run multiple implements simultaneously. Need a front loader and a backhoe on the same day? No problem. Attach both and you can head right out and get about your day. And when you're done with those landscaping tasks and it's time to mow? Simply drive up and over the mower deck and the automatic system will take over and attach the deck for you, without you having to leave your seat. Talk about convenience and flexibility.
When it comes to lawn equipment, John Deere leads the way in versatility and power. There isn't a task so small or so large that John Deere doesn't make lawn equipment to handle it. Between the 1 Series Tractor's ability to handle all your landscaping needs, the ZTrak's speedy mowing capabilities and the efficient ride on mower line, John Deere has the lawn equipment for you. So swing into Heritage Tractor's Topeka location today and let our staff know how they can help you.
Click here to get a quote today