John Deere Gator for Sale in Olathe, Kansas | Heritage Tractor
The Gator platform is one of John Deere's most versatile vehicle lineups. The entire line includes dozens of different models that are at home anywhere from the industrial worksite to the backcountry. They offer an incredible array of drivetrain options, towing and hauling capacities and specialized builds for any potential need. If you're looking for a John Deere Gator for sale in Olathe, KS then contact your Heritage Tractor dealer today!
---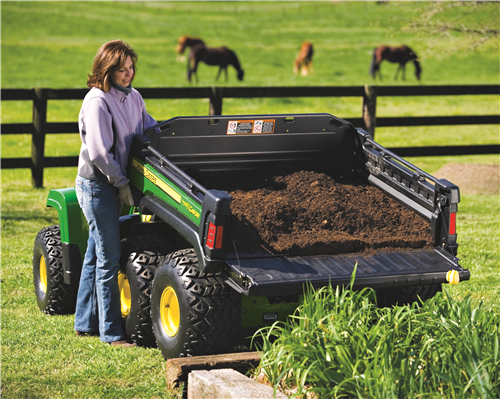 Traditional
Gators
The Traditional Gators serve as your worksite's utility truck. They're built to go anywhere and carry just about anything. Engine power ranges from a 13.5 horsepower model all the way up to a 21 horsepower model. This includes a couple of diesel offerings as well as a fully electric model, for worksites where emissions or noise might be a concern. Sidewall extenders, removable sidewalls, over 20 tiedown points, and a pickup style tailgate all work in tandem to provide a cargo bed capable of handling just about any cargo load.
Traditional Gators aren't the strongest offroad offering from John Deere, but they're still built to handle a rough and tumble worksite. 4x2, 4x4 and 6x4 drive train options are all available, to match your Gator with the terrain it will need to navigate.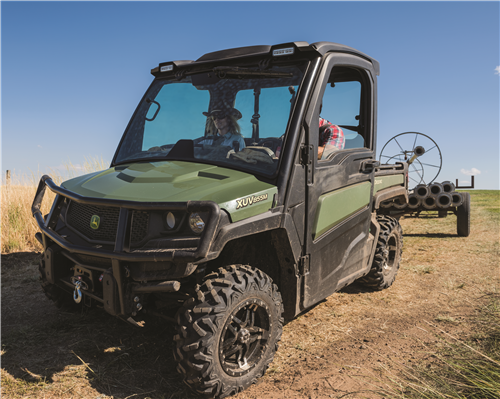 Crossover
Gators
The John Deere Crossover Gators come in medium and full-sized frame models, making the most of the Gator platforms impressive variability. Even more impressive, these Gators come in 2 person, 4 person and the innovative 3 person seating arrangements. This allows you to maximize cargo space and hauling capacity with personnel transport. And speaking of transport, it's never been easier with the Crossover Gators. With top speeds reaching 45 mph in the larger models, getting from A to B on the worksite has never been faster.
Designed to provide a highly capable work truck for a variety of working conditions, the Crossover Gator blends off-road capabilities with expansive cargo capacities to make sure you can get the job done, wherever that job may be.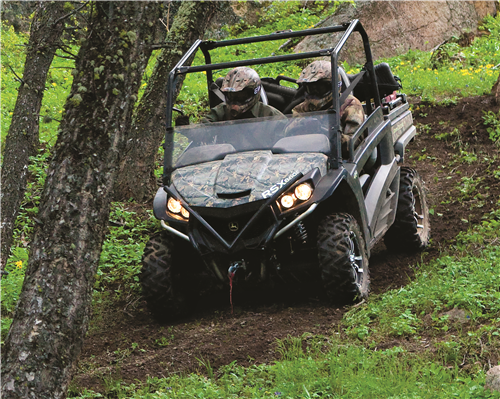 High-Performance
Gators
John Deere High-Performance Gators are your go-to for off-road fun and adventure. Featuring a powerful, Italian designed motorcycle engine with a top speed of 60 mph, these Gators are the performance machine for you. Both 2- and 4-person seating arrangements have a 400-pound cargo box, with all the functionality of the more work-oriented Gator lines. That's perfect for hauling any gear and supplies with you.
The High-Performance gators are also built to handle whatever your adventures throw at them. A full underbody skid plate means even the rockiest ground won't chew up your drivetrain. Meanwhile, an independent 4-wheel suspension will keep all four wheels firmly planted over uneven terrain and provide maximum traction and confidence through even the sketchiest conditions.
No matter what you need a Gator for, John Deere makes a model that gets the job done. From worksite utility trucks to off-road recreation vehicles, there's nothing a John Deere Gator can't do. Drop in to your Olathe, KS Heritage Tractor location today and let our sales staff help you find the Gator that's right for you.