John Deere Compact Tractors for Sale | Heritage Tractor
Compact tractors are an essential tool for anyone who owns a plot of land that needs maintenance beyond a good lawn mower and a sprinkler system. If you own considerable acreage or are planning to start building a homestead, then a compact tractor is in your future. So what can a compact tractor offer and what should you look for when buying one? Let Heritage Tractor help you out with that.
---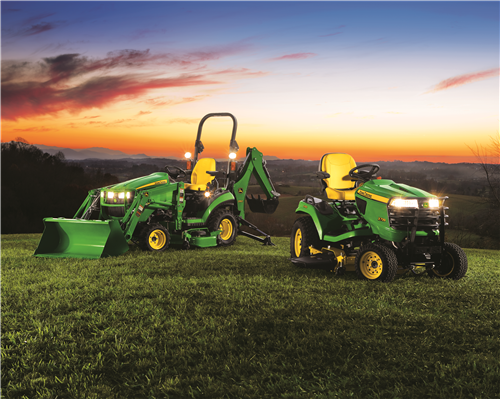 Compact tractors offer a lot of power in a small package. A tractor like the John Deere 1025R has a 25 hp engine and 18 PTO horsepower. PTO or Power Take-Off is the power delivery system that tractors use to power many of the attachments and implements they use, like rotary cutters and tillers. For everything else, compact tractors also come with strong hydraulic systems that power things like loaders and backhoes. This ability to power a wide variety of useful implements is one of the primary reasons to research a compact tractor. Being able to go from loader work to mowing, to using a backhoe all in the same day without having to change equipment is an easy way to increase efficiency and save money.
If more power and more implement availability is good, however, wouldn't it make sense to opt for a full-sized tractor? Not necessarily. Bigger tractors require larger storage space and generally don't possess the nimbleness and maneuverability that work in between and around buildings or tight fence paddocks. Compact tractors can work in places that most homeowners and homesteaders need while providing more than enough power. And they can be parked in storage sheds and garages without needing their own full-sized barns.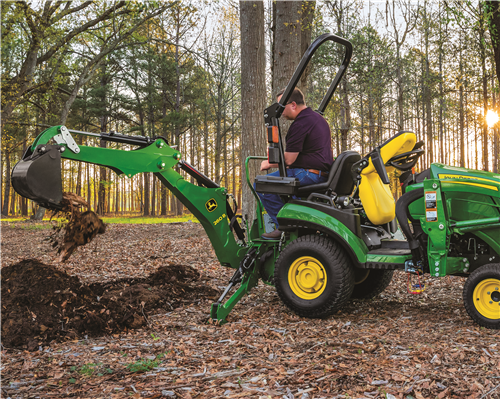 The first thing you need to know is what you're going to be using your tractor to do. Most compact tractors, like the John Deere 1025R, have long lists of compatible implements but it's worth noting what kind of implements you'll need, what kind of PTO horsepower that will require and whether or not your tractor can provide that.
You'll also want to know just how big of a tractor you'll want. That might sound counterintuitive when looking into compact tractors, but you will want a tractor that has enough weight to handle any heavy loader work and not get dragged downhill by a heavy implement. It can be difficult to know exactly how to find the right balance, so don't hesitate to talk it over with sales staff and get their opinion.
Finally, you'll want to look at dealer support. Tractors, much like cars, require regular maintenance and upkeep, as well as the occasional repair. Having a dealership that provides this kind of support both during and after your warranty is a real bonus to tractor ownership.
---
Heritage Tractor takes the complications out of this by offering an exclusive 10-year warranty on all our compact tractor models. This lets you worry less about the boring stuff and focus more on finishing your dream projects.
Buying a tractor is a big commitment, so come by your local Heritage Tractor dealership to spend some time with our friendly and knowledgeable sales staff. Talk with them about what you need from your tractor, your goals for your land and let them help guide you towards the right tractor for your needs.