John Deere Compact Track Loader in Rolla, MO
Track loaders are an incredibly useful and versatile addition to any worksite, whether you're building downtown or you're out on the farm. The nimbleness of a John Deere compact track loader, combined with their powerful lifting and hauling capacity makes them a worthy investment. And when John Deere decided to redesign their CCE offerings with the G Series, they went to operators and owners like you for inspiration. So if you're looking for a John Deere compact track loader in Rolla, MO, then swing by Heritage Tractor today!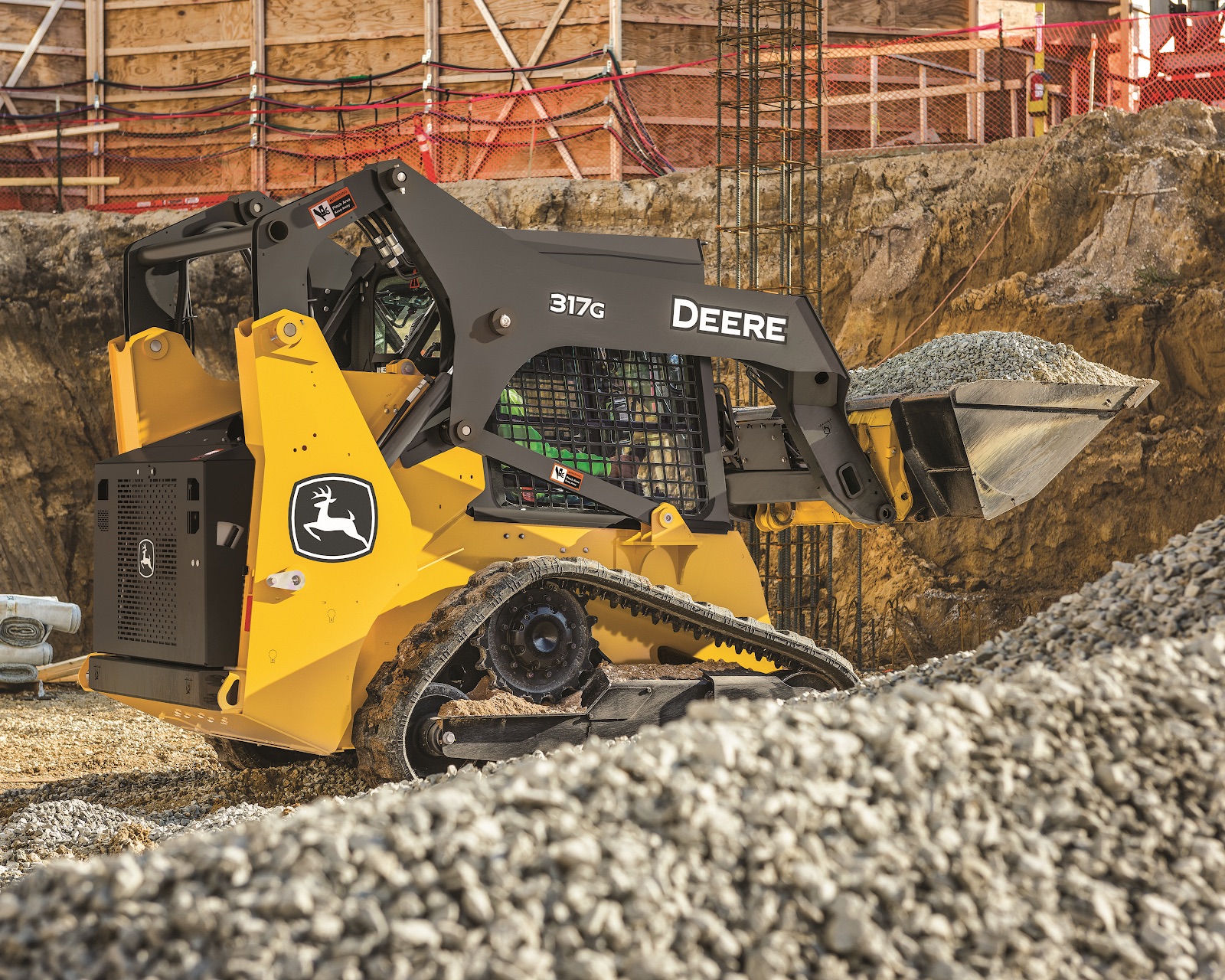 ---
The major selling point of John Deere's compact track loaders is their small size, combined with their incredible power. This is evident in maintaining a low machine weight, keeping every model below 8500 pounds. This makes them easy to transport from site to site with just a standard pickup truck. But despite their low total weight they still pack a punch, with models like the 317G featuring a bucket breakout force of 6000 pounds. You'll also get to choose between radial and vertical booms, giving you the flexibility to choose the style that best fits your work. While both styles can certainly do it all, radial booms are more suited for digging and pushing, while vertical booms are more suited for lifting and carrying.
But there's more to a John Deere compact track loader than just a high work capacity and functionality. They're also made to be comfortable so your operators can put in the long hours your work requires. The high backed, sculpted, adjustable seat can provide day-long comfort and, in some models, can even be upgraded to an air-ride suspension for smoother operation on rough terrain. Some models feature climate control to make year-round work possible but even those models that don't have AC feature optimized airflow ducts. No matter what, your operators will be comfortable, without having to put up with dust and noise.
And the John Deere compact track loaders are super easy to own. Because they'e been overengineered for the worst possible conditions, they have features meant to keep them on the job and not in the shop. Improved cooling and heat dispersion systems mean that even in unbearable situations, your compact track loader will keep running. And should it get too bad, John Deere CTLs feature an automatic shutoff that prevents high heat and/or low fluids from damaging the machine. Because they're so rugged, they also benefit from extended service intervals, saving you time and money.
John Deere compact track loaders are powerful, lightweight and easy to own machines that are perfectly at home on any job. Come by your Rolla, MO Heritage Tractor location today and take one for a test drive!