John Deere Compact Excavators in Springfield, Missouri | Heritage Tractor
Heritage Tractor is committed to bringing you the very best equipment across every industry. This is why we carry a full range of John Deere compact excavators. Whether you need a powerful digger at home or a small excavator to navigate some of the tighter areas around a job site, the John Deere compact excavator line provides incredible power in a compact, maneuverable package. So if you're looking to add to your rental fleet or increase productivity around the job site, come into Heritage Tractor today for the best deals on compact excavators in Springfield, MO.
Click here to shop Heritage Tractor's stock of Compact Excavators
Don't let their compact stature fool you. These small excavators still pack an incredible punch. Even the smallest among them, the 17G Excavator, features a digging depth over 7 feet and reach of over 12 feet. Step up to the newer 30G and get digging depths over 9 feet and reach over 16 feet. It's clear that these compact excavators provide performance that far outpaces their size.
Their small size, however, continues to provide a number of huge advantages. Designed for a reduced tail swing, the G Series compact excavators can operate and maneuver in very tight spaces that larger excavators wouldn't be able to. The 17G even features a variable-width undercarriage that can be retracted to allow the excavator to navigate narrow pathways and then re-expanded when it's time to work.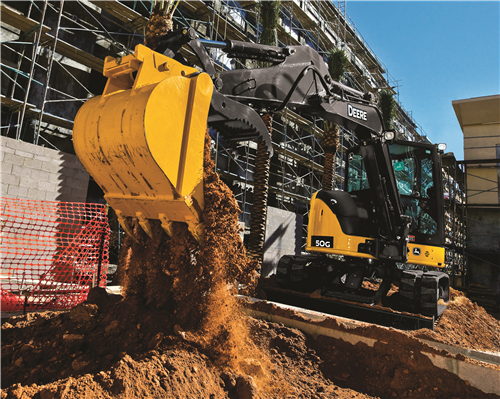 ---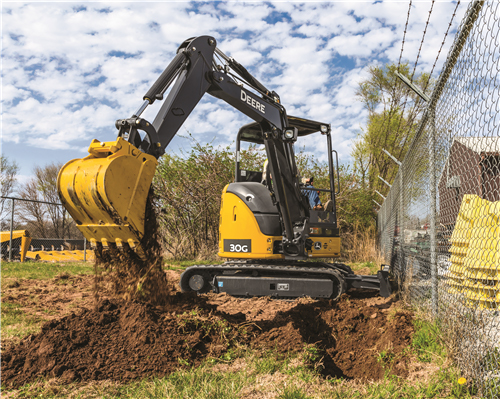 This compact size doesn't mean the workspace is uncomfortable. The station is specifically designed to accommodate larger operators. Entryways are larger and the front glass is wider to provide greater visibility. The foldable travel pedals increase during operation and operators can choose between backhoe or excavator style controls based on the job or personal preference.
The John Deere compact excavator line offers incredible power and versatility in a small, maneuverable package that allows you to use an excavator in places where hand tools had previously been the only option. Heritage Tractor can help you pick the best excavators for your application, from construction site to homestead, so come by our Springfield area locations in Nixa or Rogersville and talk with our sales team today.