John Deere Balers for Sale | Heritage Tractor
John Deere offers a wide selection of hay balers to meet any application from commercial hay production to small equine farms. This huge range of balers fits into three basic groups, round balers, large square balers, and small square balers. If you're looking for John Deere balers for sale in Missouri, let Heritage Tractor help you navigate the wide range of options available to you to fit your needs.
Click here to shop John Deere Balers for sale in Missouri
For the hobby farmers or small equine farms, the small square balers are perfect for you. They're nothing fancy and they lack many of the bells and whistles that come with larger balers but these rugged machines are more than capable of making as many bales as you need, whether you just have one horse or want to support a full farm. They're designed for easy, simple use, from a hand-tightened bale tensioner to a full width pick up. This simple design creates worry-free consistency in bale size and quality with little fuss.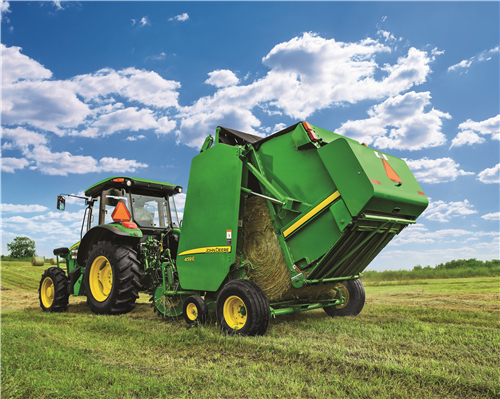 ---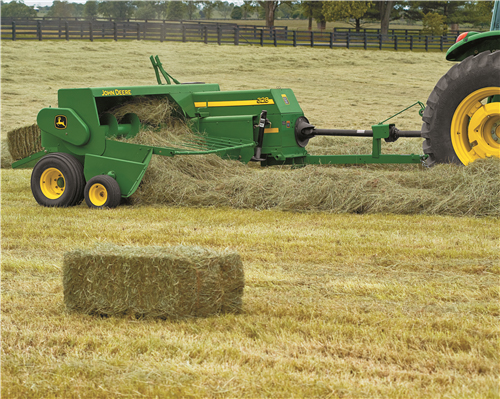 For the commercial hay grower, the wide selection of round balers available can fit any application of both hay and silage. Most notably, the zero series round balers come with the new MegaWide HC2 feed system. This system precuts the hay as it bales it, practically eliminating the need to tub grind your hay. This allows hay producers to increase tonnage per hour by up to 80% and reduce mixing times by as much as 58%, saving you loads of time and money. Balers equipped with the MegaWide HC2 system also come with a hydraulic drop floor, which can allow you to clear plugs in a matter of seconds without ever having to leave the cab.
Combine this bailing efficiency with the Plus2 Round Bale Accumulators, the industry's first fully-integrated accumulators, and you get even more productivity. These accumulators allow you to hold onto bales as you make them and choose where you want to drop them. This allows you to groups bales for easier, more efficient pick up to reduce pick up time and reduce traffic on your fields.
So whether you have a small scale operation or produce tons of commercial hay, John Deere is your total baling solution. There's a wide range of options, all purpose-built to fit your specific application to save you valuable time and money. So come into your Missouri Heritage Tractor location today and talk to our expert staff about which baler best fits your needs.