John Deere 7 Series Tractors for Sale in Adrian, MO
What makes our John Deere 7 Series the right choice for you? If you're looking for a multi-functional tractor that works to maximize efficiency and provides exceptional performance here in Adrian, MO, you've found the one. With a strong focus on user experience, each of the 7 Series Utility Tractors offers what you want and what your operation needs, all in one.
---
What do the John Deere 7 Series Tractors have to offer?
Horsepower that will push you to the next level
With horsepower ranging from 210 to 350 HP, you'll find more than enough power to take on daily chores. Our 7 Series Tractors are great solutions for any row-crop, livestock or dairy operation. If you need muscle, you'll be able to find strength in any of our eight 7R models available.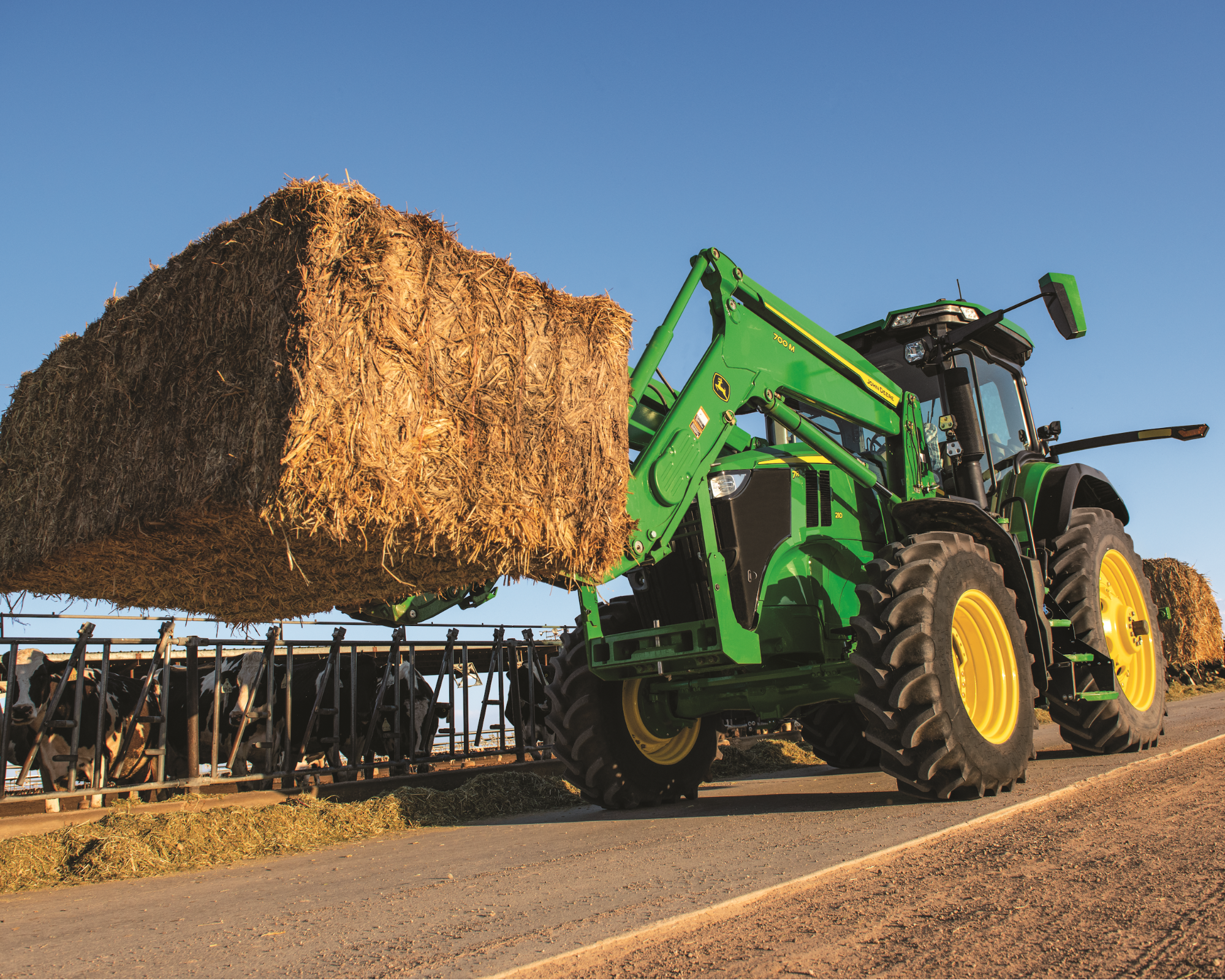 ---
Tough components built to last
When you invest in John Deere, you're investing in a long-term solution. With durable components built to stand their ground, you'll be able to work long hours in tough conditions without having to worry.
Choose the e23 Powershift with Efficiency Manager and 23 forward gears to match your operation, or pick the Infinite Variable Transmission for even more speed options. Either way, you'll find a transmission that won't back down.
---
Integrated Intelligence guaranteed to boost performance
By taking advantage of our integrated intelligence systems, you'll be able to maximize efficiency, increase output, reduce error and fight through fatigue. Here are a few solutions you'll quickly become familiar with on our 7R Series Tractors.
CommandPRO Control. Experience complete control of your tractor through a customizable joystick. With command options varying from setting tractor speeds to inching forward options, the power will lie in your hand.
StarFire 6000 Receiver. With this system, you'll find ultimate precision and faster planting speeds that will help to improve your overall operation.
JDLink. Keep up with critical information and machine performance so you can improve your overall decision making. This is especially helpful when you're working with a fleet of equipment.
AutoTrac. Work faster and reduce implement overlap so you can maximize output and minimize fatigue. With automated steering and hands-free turning, you'll be able to keep your focus on what really matters: the job ahead.
---
An Operator Station you won't want to leave
When you work long and hard days, staying comfortable can be the last thing on your mind. That's why it's one of the 7 Series' top priorities. With three different cab packages to choose from, you'll be guaranteed a spacious cab, various radio and speaker options, 4 USB ports, a comfortable seat and a dual-tilt steering column. Enjoy a refrigerator, footrests and more when you upgrade from the Select Package to the Premium or the Ultimate package.
---
Why shop with Heritage Tractor?
Our team does more than sell equipment. We invest in our customers because we believe in the work they do. That's why we offer quality service, honesty and integrity to each of our customers. With a dedicated parts and service department and a fantastic crew, we are committed to keeping you running for years to come.
If you're looking for a John Deere 7 Series tractor for sale in Adrian, MO, be sure to give our team a call. Whether you have questions about which model is right for you or you want to learn more, we have the knowledge and experience to help.