John Deere 63 MoCo | Heritage Tractor
When it comes to cutting hay, time is of the essence. So you want a mower-conditioner that makes quick work of the crop without too much fuss. That's exactly what the John Deere 630 Mower-Conditioner offers. Rotary discs with a top speed of more than 190 mph will blast through your fields while a selection of different conditioning rolls and hitch options give you the flexibility to manage any field and crop conditions.
---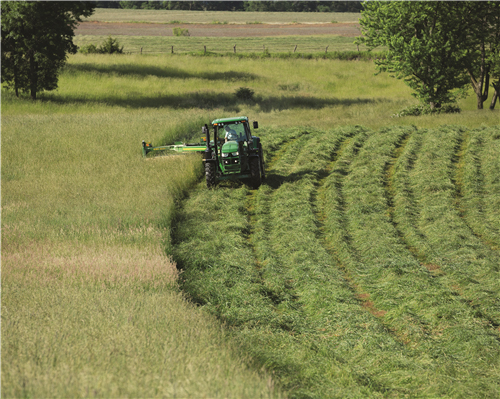 The beating heart of the 630 mower-conditioner is the rotary cutter bar comprised of 6 cutting disks. Each one of these disks is a self-contained modular unit that can be independently disconnected from the cutter bar to allow easy repair and replacement of worn parts. This design also ensures that if your cutter bar encounters an unexpected rock the whole cutter bar does not have to be replaced.
After a quick and clean-cut, the grass is fed into the conditioning system. The 630 mower conditioner allows you to choose between three different types of conditioner. The standard style is the impeller conditioner. This option works well in almost all grass applications but if you have thicker crops you might consider upgrading to urethane rolls. This John Deere exclusive has adjustable spacing and pressure that allows you to handle a wider variety of crops. For the thickest and heaviest of crops, the V-10 steel rolls that have such success in the larger mower-conditioners are now available for the 630.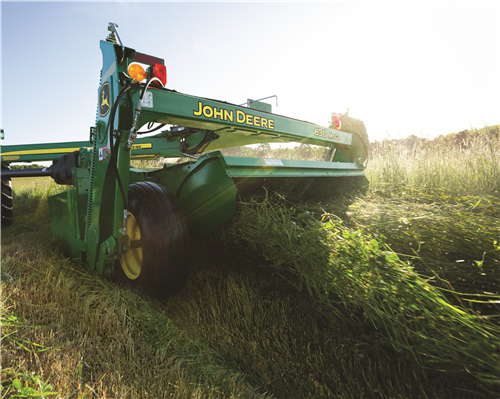 The 630 also offers a number of hitch options to choose from. The standard hitch is the clevis hitch which is the most economical choice while still providing outstanding performance. The equal angle hitch provides a bit more maneuverability. For maximum performance, however, you'll want to consider the swivel hitch, which allows for maximum maneuverability, tighter corners and dodging obstacles in the field.
The 630 mower-conditioner offers a lot of flexibility and performance and remains a core part of John Deere's mower-conditioner lineup. It's a perfect solution for your hay harvesting needs and can be adjusted to handle almost any kind of field condition that may come up over the years. Come into Heritage Tractor today and let our staff help guide you through all the options and configurations today.
Click here to find your nearest Heritage Tractor location