John Deere 6 Series Tractor for Sale in Clinton, Missouri | Heritage Tractor
When you need a versatile, powerful row crop tractor that just does more, then the John Deere 6 Series tractors are for you. The 6 Series is perfect as a powerful, heavy-duty tractor that can still easily navigate around buildings and maintain a reasonable fluid efficiency. This makes it an ideal choice as an all-around workhorse or in more specialized applications. When you need a John Deere 6 Series tractor for sale in Clinton, MO, look no further than Heritage Tractor.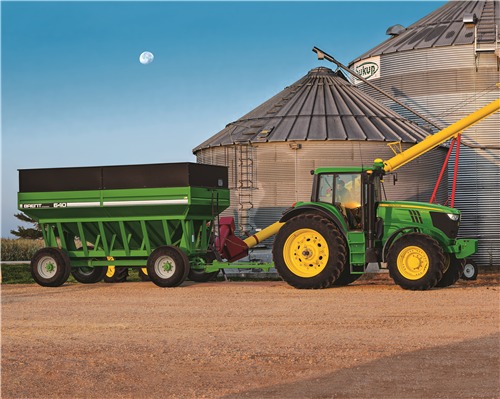 ---
The cornerstone of the 6 Series appeal is its strong and reliable selection of engines. The 6M line offers 110 to 195 horsepower engines while the 6R models range from 110 to 215 horsepower. These engines range across small, medium, and large chassis sizes, giving you a level of flexibility in choosing the perfect tractor for you. Once you've decided on an engine and trim levels, it's time to take a look at the rest of the options these tractors offer.
The 6M line lets you choose between an open operator station or a cab. The open operator station is no slouch when it comes to comfort. The wide seating, intuitive control layout, and spacious legroom make the 6M easy and comfortable to operate. The cab option, however, opens up a whole new level in operator comfort. In addition to the obvious protection from weather, dust, and bugs, the cab offers full climate control. The swivel seat and brightly-colored and intuitive control layout keep operation smooth and comfortable.
The 6R line steps up the cab and control game. The ComfortView cab and CommandARM combine for an unparalleled operator experience. The cab itself has slimmer corner posts, panorama windows and roof, and a 30-degree seat swivel. All of this means the greatest possible visibility of your work and your implements. The CommandARM puts control of the tractor and implements within arm's reach. The joystick style controls are easy to use and intuitive and the whole thing swivels with you when you turn to look behind you.
All 6 Series tractors also come ready to use the latest in John Deere Precision Ag. By combining JDLink Plus with the 4200 CommandCenter display puts all of the tractor's functions and performance on an easy-to-use display. This allows you to track fuel usage, tractor location, hours and a host of other performance data. You can also wirelessly transfer that data to your dealer and advisors, allowing you to make decisions quicker. Even better, should something go wrong, your dealer can access your tractor remotely to help you diagnose the problem.
The 6 Series is an incredible line of tractors, featuring some of the best John Deere has to offer. Not only does it serve as a capable row crop tractor, for all your planting, spraying and harvesting needs but it also serves as a powerful utility tractor for any other chores you may have around the farm. Swing by your Clinton, MO Heritage Tractor location today and see what the John Deere 6 Series can do for you.