John Deere 5 Series Tractor Packages for Sale | Heritage Tractor
Heritage Tractor takes pride in bringing you the best equipment at prices that won't break the bank. We know every farm and need is different, so we offer a number of package deals to fit your specific needs. Read on to see our John Deere 5 Series tractor packages for sale. The 5 Series is a rugged, dependable line of tractors and Heritage Tractor wants to bring that performance to you with a variety of different money-saving specials.
---
Workhorse Special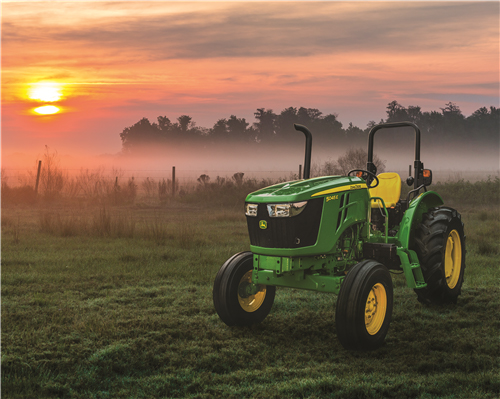 Aptly named, the Workhorse Special exemplifies everything that makes the John Deere 5 Series great. The 5045E is a down to business tractor that will remain a trusted tool at your farm for years to come. Like all 5 Series tractors, the 5045E comes with a John Deere PowerTech diesel that runs at a standard speed of 2100 RPM, minimizing vibration and noise. Implement hook up is easier than ever with the 5 Series telescoping draft links and adjustable depth drop. Should you require even easier implement attachment, the 5 Series can be outfitted with John Deere's iMatch Quick-Hitch for practically effortless connection. Heritage Tractors Workhorse special brings this to you with monthly payments as low as $179 a month.
Rancher Special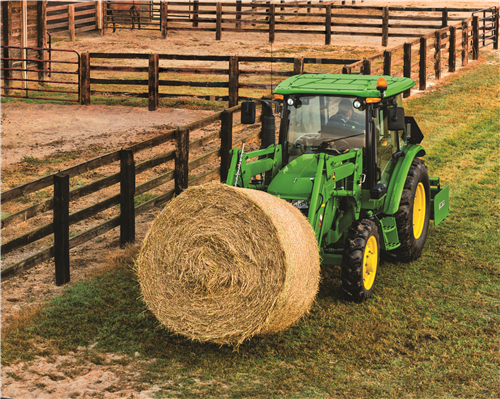 The Rancher Special steps it up to the 5075E, which brings even more options to the 5 Series. Notably, the 5075E comes with the 540 E PTO which allows for implement usage at even lower RPMs, saving not only fuel but time by reducing the number of refueling trips you'll need to make. It also comes with an optional 12F/12R PowerReverser transmission to handle the most demanding of applications. Outfitted with this option, the 5075E can be shifted between forward, neutral and reverse via the electrohydraulic shift lever on the left side of the steering wheel. This allows the operator to change directions without having to worry about complicated controls or a clutch pedal. They can simply steer and change directions with one hand while operating implements controls with the other.
Cattleman Package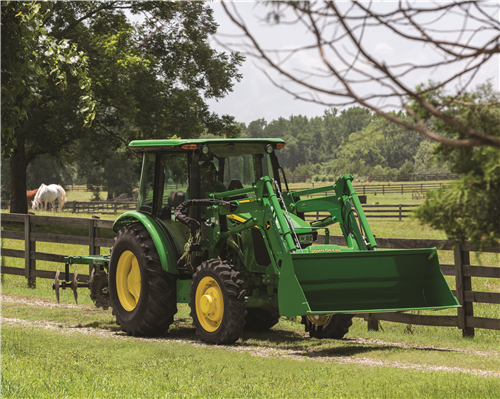 Heritage Tractor's Cattleman Package combines a popular option and implements with the 5075E tractor to deliver an incredible deal in productivity and operator comfort. Already outfitted with a comfortable operator station, the 5075E is smooth and comfortable to operate. A wider station and flatter footrest area increase comfort while an intuitive control layout makes the tractor easy to use. Add on the climate-controlled cab and fatigue becomes a nonissue on even the longest days. With operational side windows and a rear window that opens a full 70 degrees, visibility isn't affected while a dome light allows for easy navigation during night work.
Choose from any of these specials and you'll be taking home legendary John Deere build quality at an exceptional price. Unsure of which one's right for you? Come by Heritage Tractor today and talk with our experienced staff and let them help you decide on the John Deere tractor package that best fits your needs.
Add to all that the 520M loader with over 3,500 pounds of lift capacity and you have a tractor that can handle anything.