John Deere 4044M Tractor Package for Sale in Kansas

You know what's even more exciting than buying a new tractor? (Kinda hard to believe there's something even more exciting, right?) Buying a new tractor that's equipped with everything you need. At Heritage Tractor, we want your purchase process to go as smoothly and stress-free as possible, which is why we have bundled three of our best-selling items together in the Star Spangled Package. This package includes a John Deere 4 Series tractor, a loader and a rotary cutter. You don't have to worry about figuring out which tractor and implements work best together. We've done the work for you.
The Star Spangled Package
The Tractor
John Deere 4044M
Standard 4-wheel drive
PowrReverser(tm) or eHydrostatic Transmission
Powerful diesel engine (43.1 hp)
The Loader
400E Loader
1,760 lb lift capacity
Easy maintenance points
Parking stand kit
3850 lb. breakout force
The Cutter
RC2072 Rotary Cutter
72-inch cutting width
Adjustable cutting height
Puncture-resistant rear tires
iMatch, AutoHitch compatible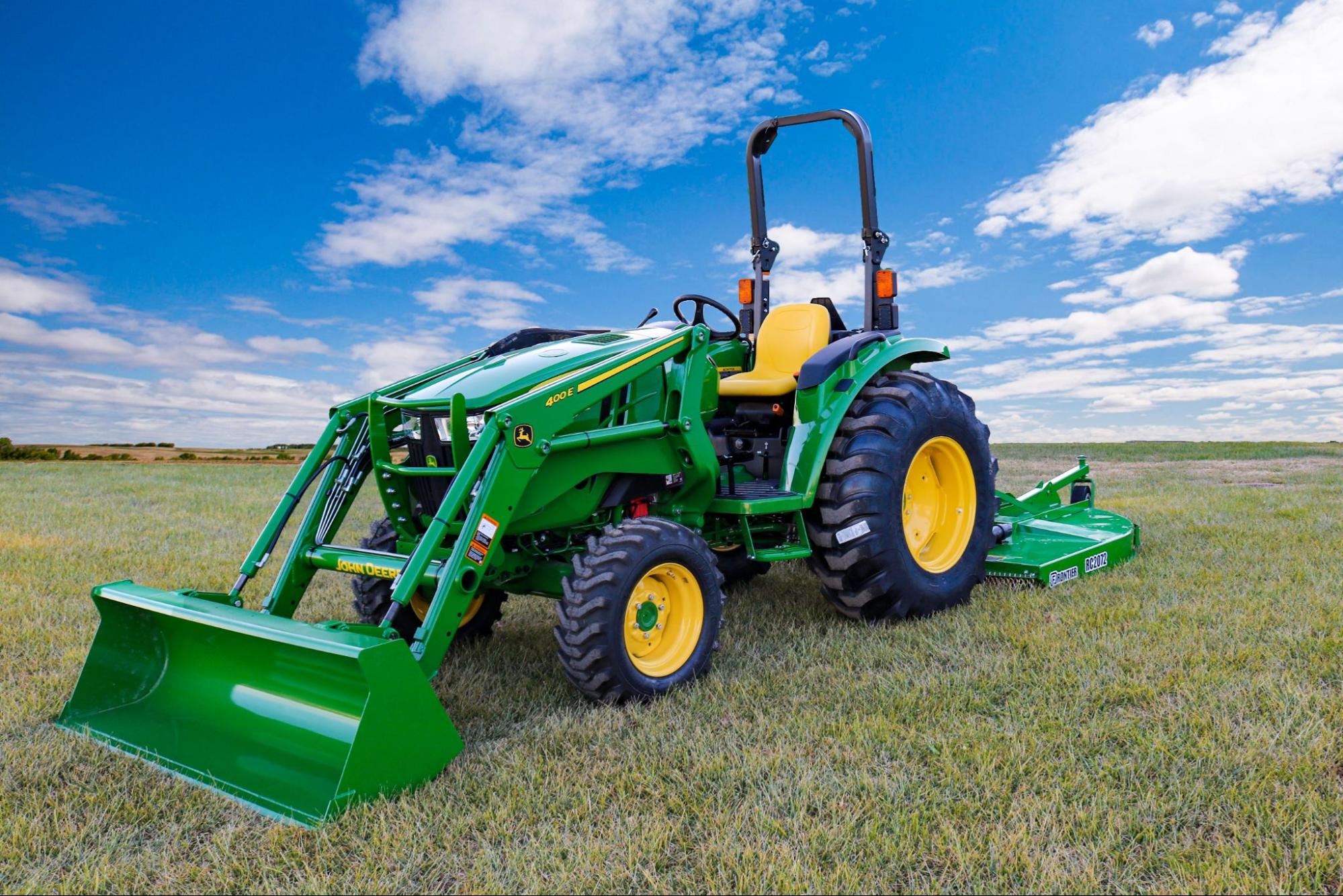 John Deere's 4044M tractor is built to be everything you need in a compact tractor. It is packed with power and capable of doing heavy duty tasks while still being small enough and light enough to do yard work without leaving ruts. When used with the 400E loader and the RC2072 Rotary Cutter, you can tackle almost any task. The Star Spangled package is great for clearing brush, mowing fields, landscaping and more. This package is great for anyone wanting a tractor with all the necessary options without paying for all the extra creature features. The 4044M comes with an open operator station, differential lock, folding RollOver Protective Structure, and a rust and dent-resistant hood so you don't have to worry about weather or debris destroying the hood. Our John Deere compact utility tractors are produly made in the United States of America with quality materials to ensure your tractor will last for years to come. Our Star Spangled Package is made to withstand the rigors of years of labor.
Make It Your Own
There are a couple different ways you can make the Star Spangled 4044M Tractor Package your own. You can pay for it out of pocket or finance it through John Deere Financial. Through John Deere Financial you can get as low as 0% down payment and financing of 0% APR for 72 months. When deciding on which payment method works best for you, also consider adding our 3 Year HeritageGard Maintenance plan. When you add the 3-year maintenance plan, you get your third standard service visit for FREE, plus we will check for any factory updates your machine may need. We ensure our work by giving you a Parts and Labor Warranty on all parts we install.
We're confident you will be nothing short of satisfied with the Star Spangled Tractor Package. For more information on the tractor or implements, contact our experts or swing by one of our Heritage Tractor locaitons in Kansas. We would love for you to come by and test out the Star Spangled Package yourself to see just how great it is.