John Deere 35G for Sale in Baldwin City, KS
When you break ground, you need unbeatable force to dig deep, a heavy weight to haul far, and a reliable boom to reach wide. The John Deere 35G Compact Excavator offers a premium arm that does it all. Built to take on a variety of jobs, this mini excavator has a place at the construction site, in backyards and out on the farm. Wherever you may need it, it's there.
When put head-to-head, there are certain jobs that compact excavators are much better suited for than standard-sized equipment. For example, one of the 35G Compact Excavator's most appealing features is its small size. By offering light ground pressure, the 35G reduces damage on sensitive terrain. When you own smaller machines, transportation and storage are more convenient and much less expensive, especially when you have to travel from site to site. It's also great for projects with tight spaces and little maneuverability.
While it doesn't offer the same specs that standard construction equipment does, the 35G is a great solution for hard workers who need affordable, Earth-moving power here in Baldwin City, KS.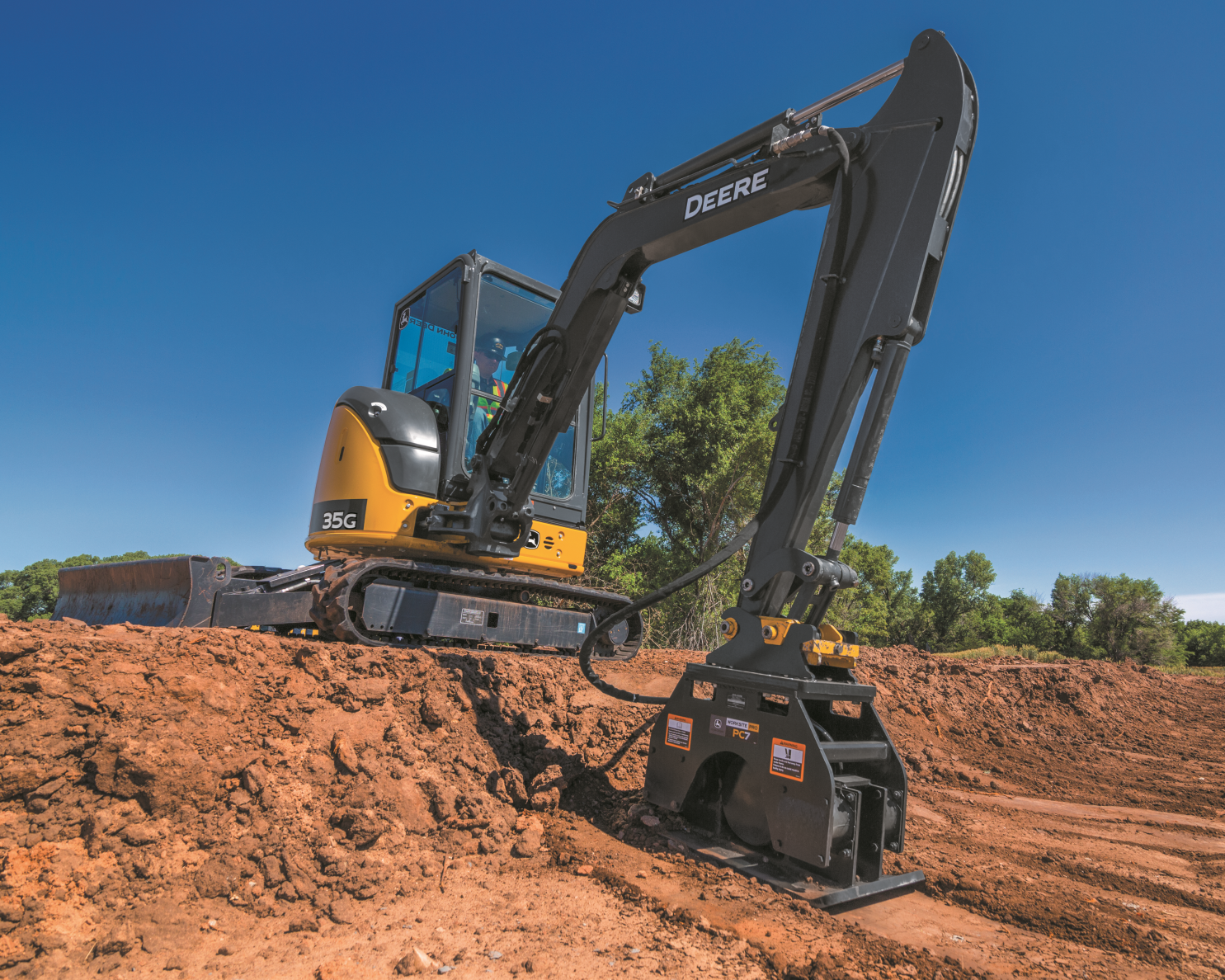 ---
Compact Movement
Designed to go where most heavy equipment can't, the 35G Compact Excavator's compact frame will play to your advantage during operation. Squeezing into close quarters is one thing, but being able to easily maneuver around tight corners with a zero-swing tail shows exactly why this mini excavator continues to soar in popularity.
Powerful Engine
We've talked about the perks of the 35G's convenient size, but we haven't yet mentioned what this drop in size negatively affects: absolutely nothing. With EPA Final Tier 4 technology, you'll experience a fully integrated, fully supported engine. You'll also be able to cut costs and increase work cycles with greater fuel efficiency and features like auto-shutdown.
Quite Operation
All of this power doesn't mean you won't be able to enjoy the ride. With noise-reducing mufflers, the 35G can be put to work anywhere, at any time. Built with a focus on safety and comfort, this Compact Excavator will work to keep your drivers alert while reducing vibrations down to a minimum.
Efficient Cab
John Deere designs each compact excavator with the operator in mind. In fact, many of the newest features were requests from owners and operators. Intuitive controls, easy operation and productive features all work together to boost confidence and comfort while increasing the operation's efficiency. Easily move between backhoe- and excavator-style controls, or take advantage of the control pattern selector valve. The cab's high visibility ensures safety and complete control during each use.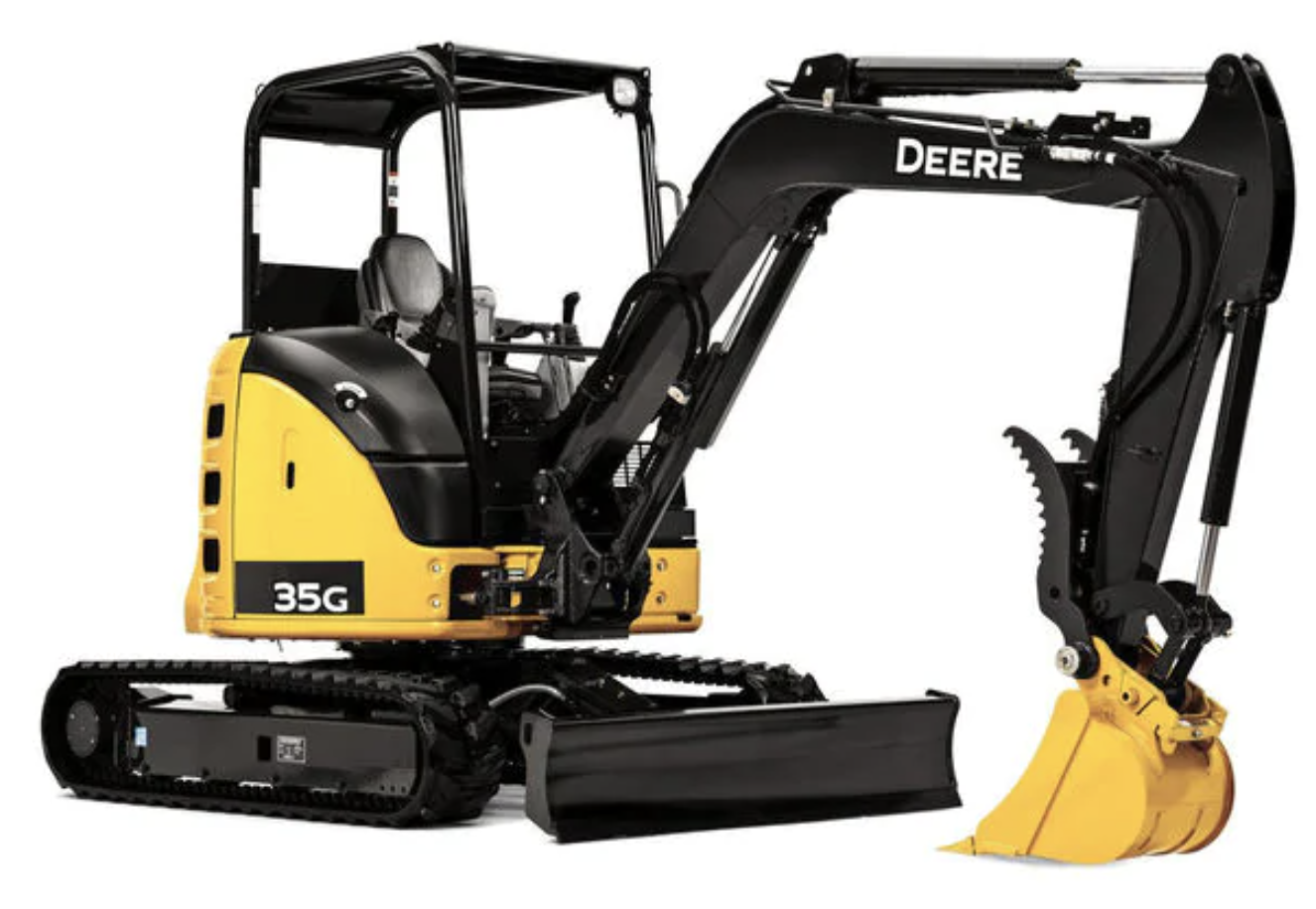 Reliable Traction
As a safe solution to taking on uneven terrain, the 35G's tracks add the necessary stability to keep you grounded. With different tracks to choose from, you'll be able to match the way you work. Our rubber tracks are suited for just about any terrain, including paved surfaces. For tougher and heavier material, you can opt for steel tracks instead.
---
What are the specs on the John Deere 35G?
1. 23.3 Net Horsepower. Out of all of the compact excavators we offer here at Heritage Tractor, the 35G falls right in the middle. You'll have plenty of horsepower to take on jobs like digging holes, making trenches, excavating small structures and landscaping properties while also maintaining a manageable frame size and an affordable price.
2. 10-ft Maximum Digging Depth. Get down and dirty with Earth-moving projects like digging up a swimming pool or clearing the way for a drywell. However you choose to use your bucket, you'll find yourself with 10 feet of available ground to work with.
3. 8,135-lb Operating Weight Light enough to prevent terrain damage yet heavy enough to offer large loads, the 35G offers a balance that meets in the middle.
---
How does Heritage Tractor Support You?
With years of knowledge and experience, our team is dedicated to finding you the perfect fit for your needs and budget. You'll find low-rate financing online to prove it. To keep you running strong, Heritage Tractor offers a team of parts and service experts who are committed to our customers. Take advantage ordering parts online and after-hours emergency support. Through sales, parts and service, our team will be there with you every step of the way. Visit Heritage Tractor in Baldwin City, KS and see for yourself.