John Deere 3032E for Sale in Lawrence, Kansas | Heritage Tractor
John Deere compact tractors are the perfect solution for property owners who need the power and capabilities of a full-sized tractor, without having to deal with the size and fuel consumption. The John Deere 3032E threads that needle perfectly, providing a nimbleness that makes it perfect for navigating barns and granaries, as well as working smaller tasks where a more cumbersome machine would struggle. If you're looking for a John Deere 3032E for sale in Lawrence, KS, then Heritage Tractor is the place to look.
---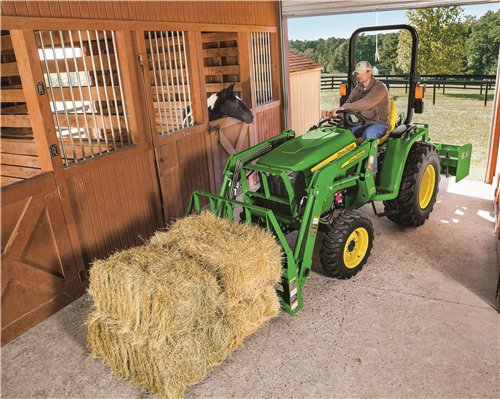 The 3032E is designed to maximize ease of use for its operator and that starts with the smooth and powerful 32 hp engine that delivers power through a hydrostatic transmission. Forward and reverse are controlled via Twin Touch foot controls that provide a single pedal for each direction. Rather than require the operator to heel-toe a single pedal to change direction, this pedal design reduces fatigue by using a full-sized pedal for each direction. This design also allows for easier inching of the tractor to connect implements.
Speaking of connecting implements, the 3032E is designed to make that as easy and stress-free as possible. With the optional iMatch Quick-Hitch system, the 3032E can attach any compatible implements quickly, without tools and often without even leaving your seat. The hydraulic system lifts the implement into place for you, requiring that you just lock it down and go. The Quik-Park loaders offer much of the same convenience. Loaders can be attached and detached in minutes without the use of any tools. And should you want to, you can even use your 3032E as a lawnmower, making use of the AutoConnect mid-mount drive-over mower deck. Just drive over the deck, and the automatic system will take care of the rest.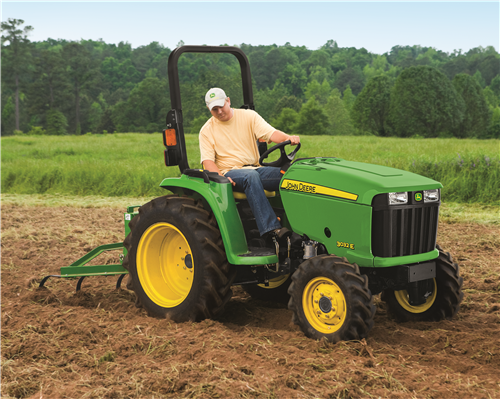 Operating the 3032E really couldn't be easier, but John Deere continues to go above and beyond. The standard power steering operates on its own hydraulic pump, meaning that when you are using some of these awesome implements, you aren't stealing hydraulic power from your steering system. This is incredibly helpful, especially in loader work when holding and supporting heavy loads while moving is important.
The 3032E is a versatile and powerful tractor, built to fit where other tractors can't and to do what other tractors won't. Its affordability, coupled with its no-frills build approach makes it ideal for people who want to add a capable workhorse to their operation without breaking the bank. Drop into Heritage Tractor today and talk with our sales staff about adding one to your collection today.