John Deere 2 Series tractors for sale in Lawrence, Kansas | Heritage Tractor
The John Deere 2 Series tractors are designed with the serious homeowner in mind. All three models in the 2 Series offer power and performance in a compact frame, perfect for landscaping tasks. The John Deere 2 Series combines this capacity with the comfort and simplicity that John Deere compact tractors are known for. If you're looking for a John Deere 2 Series tractor for sale in Lawrence, KS, then drop by Heritage Tractor today.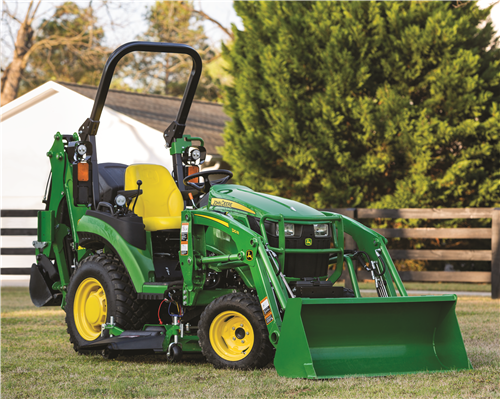 ---
The 2 Series offers customers a choice between three different engines with 25, 32 and 38 horsepower. The 25 horsepower engine is ideal for homeowners who value efficiency and affordability, while the 32 and 38 horsepower versions are excellent for large landowners who need a powerful workhorse. These diesel engines also provide 17, 24 and 30 PTO horsepower respectively. All of which means no matter what model John Deere 2 Series tractor you purchase, you'll have the power to run whatever implements you may need.
To match the power delivery, the John Deere 2 Series also comes outfitted with comfort upgrades designed to make sure you can put that power to use for as long as you need to. This starts with the fatigue-reducing TwinTouch Pedal controls that allow you to switch directions just by changing pedals. This reduces fatigue over a standard heel-toe design found on other tractors. As well, the 2 Series comes with the Quik-Park loader mounting system, an AutoConnect drive-over mid-mount mowing deck and an optional iMatch Quick-Hitch for rear implements. All three of these attachment systems are designed to attach compatible implements quickly and without tools.
Powering those implements comes courtesy of either the strong, independent PTO or the powerful hydraulics. The 25 horsepower model features 7-gallon-per-minute hydraulics, while both the 32 and 38 horsepower models feature a 9.3 gallon per minute system. All three models maintain an independent pump for the power steering. This makes sure that no matter how hard you're working the loader you never have to worry about losing steering performance.
No matter what you need a compact utility tractor for, the John Deere 2 Series can deliver. Whether you need to add a versatile vehicle to your landscaping fleet, you need some nimble tractors for municipal work or you just want the best for your homestead, you'll find what you need in the 2 Series. Swing by your Lawrence, Kansas Heritage Tractor location today and talk with our staff about your needs and let us show you what the John Deere 2 Series can do for you.