John Deere 2 Series tractors for sale in Harrison, Arkansas | Heritage Tractor
Tired of messing around on your property, farm or ranch with a tractor that can't do the job? Then you need to step up to the best: a John Deere 2 Series Compact Utility Tractor from the friendly Heritage Tractor dealership near you!
Packed with features, power and flexibility, the John Deere 2 Series tractors leave all others in the dust. Stop in today at Heritage Tractor and let us walk you through all the ways a John Deere 2 Series Compact Utility Tractor can help you work harder and smarter, or check out our full selection of 2 Series tractors online right now.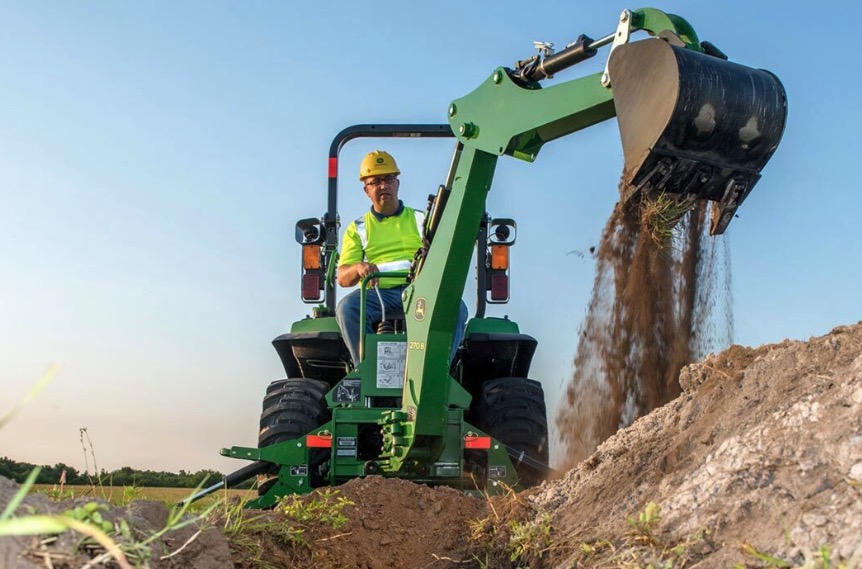 ---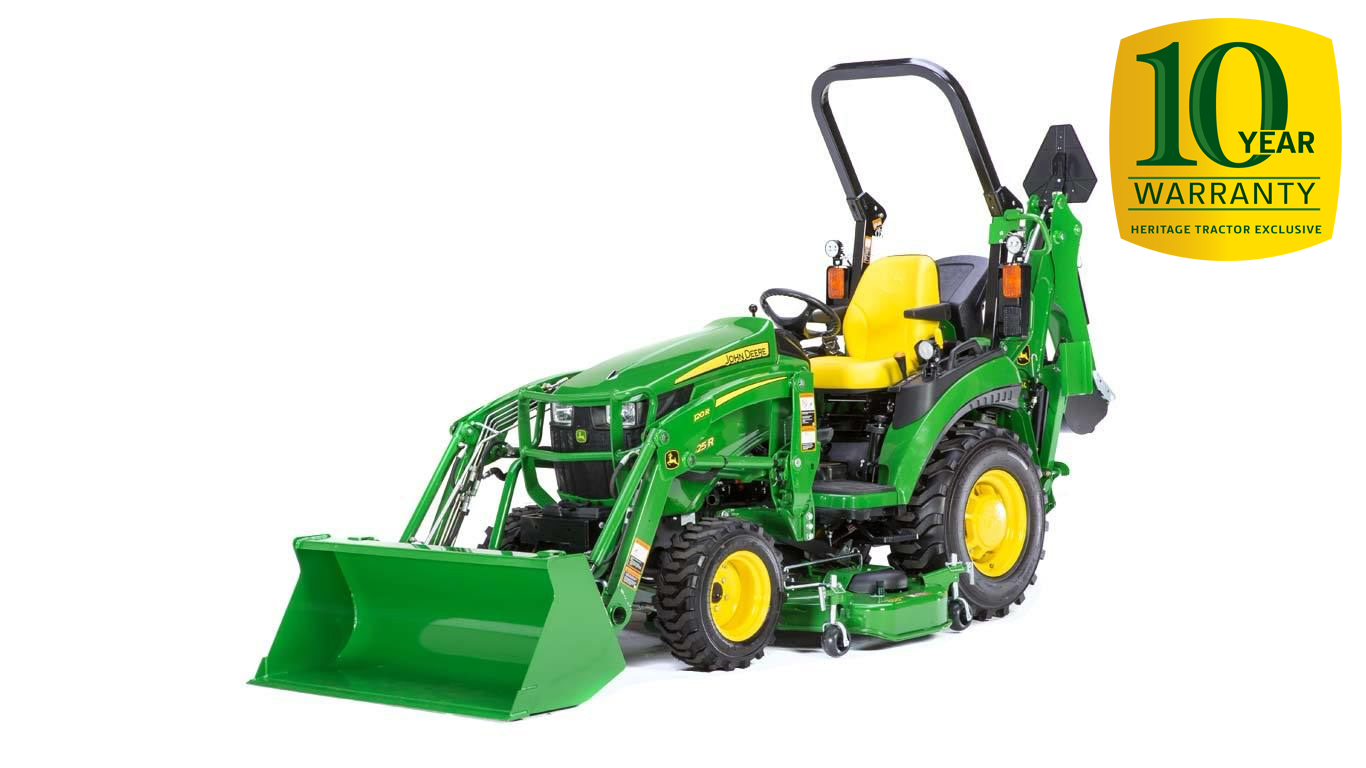 Have you taken your lawn and garden tractor as far as it will go? Then make the switch to a reliable, flexible, powerful compact utility tractor, with the 2025R. The 2025R is the entry-level 2 Series John Deere Compact Utility, but don't let the small size fool you. The John Deere 2025R ranks far above its weight on features. Under the hood is the durable, efficient, high-torque Yanmar three-cylinder diesel, with 24.2 horsepower on tap, 18 horsepower at the PTO, and rubber-isolated engine mounts to keep noise, vibration and operator fatigue to a minimum. Backing that engine is a two-range hydrostatic transmission with a durable diecast alloy case for fast, clutchless direction changes and gearless operation to let you match your speed to the task at hand.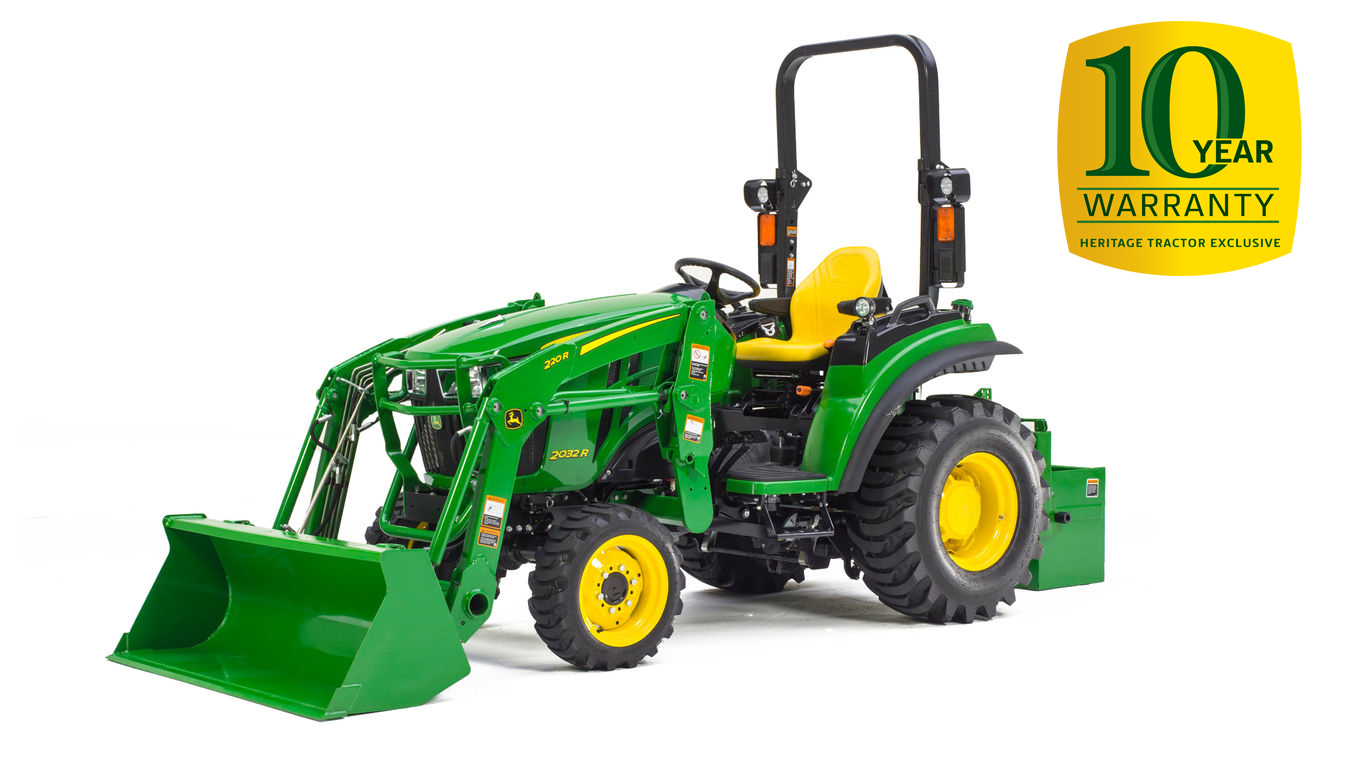 Need more from your compact utility tractor? Check out the John Deere 2032R Compact Utility Tractor! With a low center of gravity, a powerful 32 horsepower liquid-cooled diesel engine, standard four-wheel drive and a folding rear protective hoop, the John Deere 2032R Compact Utility Tractor can take on terrain and conditions that would put lesser compact utility tractors in the barn. The John Deere 2032R Compact Utility Tractor features the revolutionary CommandCut mower deck lift system, which allows for laser-accurate adjustment of the mower deck at the touch of a dial, with the ability to calibrate the system for different tire sizes to maintain rock-solid precision, no matter what the terrain. It's compatible with both AutoHitch and iMatch quick-hitch implements, so you can use the attachments you need to get the job done.
Looking for the best and most versatile compact utility tractor money can buy? Then you're ready to step up to the John Deere 2038R Compact Utility Tractor. Under the attractive sloped hood for optimum visibility, the John Deere 2038R features the 1.6-liter Yanmar turbo-diesel, producing 36.8 horsepower. The high-pressure fuel injection and a standard exhaust after-treatment system create high fuel efficiency and low emissions. Whether you need to mow, haul rock, or dig trenches, the 2028R compact utility tractor has your back. Features like the AutoConnect Drive-Over mower decks and John Deere tough front loader and backhoe attachments allow you to get the job done with minimum fuss and even less sweat.