John Deere 1023E in Missouri
Need a tractor big enough to move dirt and clear brush but not too big to mow the yard? Heritage Tractor has just the machine for you. John Deere's 1023E compact utility tractor is the one for the job. These tractors take chores from being dreaded tasks to being enjoyable and relaxing. We understand working outdoors is a way of life in Missouri, which is why we have several dealerships across the state to serve you.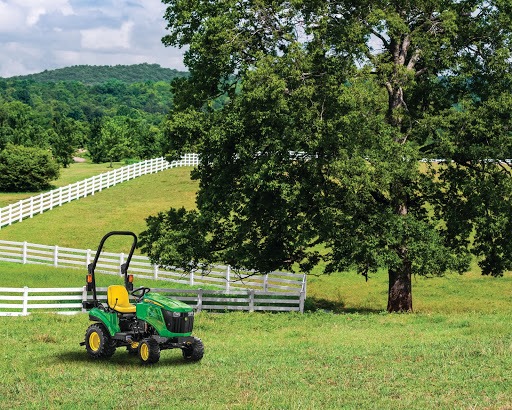 ---
What Can They Do?
Rather, what can't they do? The possibilities are endless. The 1023E is great for doing yard work and tasks around your property. Mowing the lawn with a compact utility tractor has never been easier. With the AutoConnectTM mower attachment, all you need to do is drive over the deck ramps, wait until you hear the PTO and deck attach, lock the gauge wheels, and you're good to mow. With the Quik-ParkTM Loader you can quickly hook up the loader and get to moving whatever you need.
With a lifting capacity of 955 lbs, these tractors are great for hauling gravel, mulch, garden supplies, farming tools and more. The Twin Touch TM transmission makes loader work effortless with the side-by-side forward and reverse pedals. The 1023E tractor makes short work of Saturday morning to-do lists, or any day of the week really. The compact size of these machines makes them easy to navigate tight areas, while being stable enough to traverse uneven terrain.