Heritage Tractor Blog
Wednesday, September 29, 2021
Best Small Tractor Implements for John Deere Tractors
Figuring out which implements are most useful largely depends on the type of tasks you're trying to accomplish. If your tasks include clearing land, the implements that would be most beneficial to you may be different than the ones someone else would need to put in a fence row. Below are some of the implements we think are the most universally useful.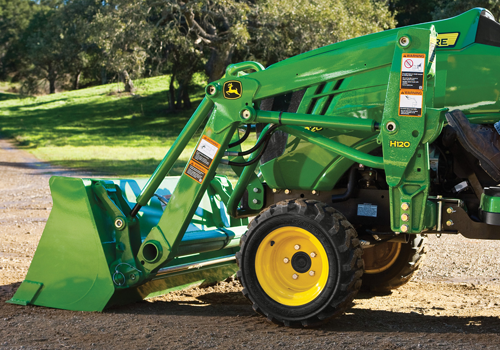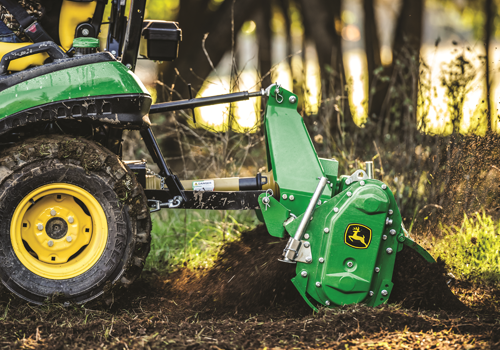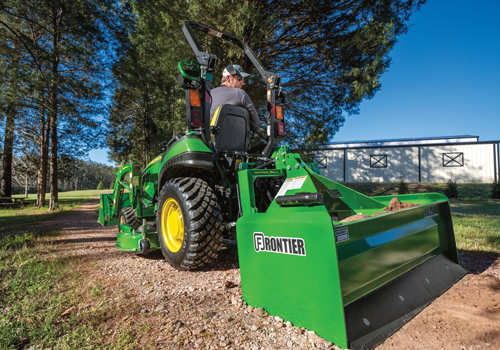 1. Loader
Loaders are one of the most popular implements for tractors of all sizes. Their popularity comes largely from their extreme versatility. There are numerous attachments you can use them with such as buckets, pallet forks, grapples, and bale spears. Oftentimes people use them with a bucket for hauling dirt and rocks. They are also great for moving landscaping materials and gardening tools. When equipped with loaders, John Deere's small tractors are great to use for feeding livestock.
2. Rotary Cutter
If you have to maintain land aside from your yard, rotary cutters are a must-have. They are great for clearing brush and cutting down overgrown grass in pastures and on roadsides. Our Frontier RC20 Series rotary cutters come in four cutting widths: 48 inch, 60 inch, 72 inch, and 84 inch. All of these are compatible with Category 1 and 2 hitches, except for the 84-inch cutter and it is only compatible with Category 2 hitches. Currently, all of John Deere's compact tractors are equipped with Category 1 hitches with the exception of the 4M Heavy Duty Tractors which are compatible with Category 1, 2, and 3 hitches.
3. Blade
One of the most beneficial implements to have if your driveway is gravel or dirt, is a blade. At Heritage Tractor, we carry both box blades and rear blades. You may be thinking, "okay, I have a gravel driveway but which one should I get?" Box blades are designed for grading and leveling surfaces. Because of the scarifier teeth on box blades, they are better suited for leveling ground and removing the washboard surface on driveways than rear blades. Rear blades are great for moving gravel and dirt back onto the driveway when it's been pushed to the side. They are also good for smoothing the surface.
4. Rotary Tiller
This one is for all the gardeners. Sure, walk-behind tillers are nice, but imagine being able to map out your perfect garden bed and prepare it all from the comfort of your tractor. Our tillers are designed with heavy-duty tine shafts so even tightly packed soil can't keep you from having the garden of your dreams. Best of all, these tillers are made to last. They are built with quality materials that are designed to withstand years of labor.
5. Post Hole Digger
And at last, post hole diggers, the implement designed for anyone needing to put in a fence, build a deck, or put up a pole bed. If you've ever had to dig our post holes by hand, you know how exhausting and labor intensive it can be. Now imagine how much easier it would be if instead of hand digging the hole, you could use a PTO powered post hold digger on the back of your compact tractor. One thing is for sure, your shoulder and back would be a lot happier.
Go Back to List