Heritage Tractor Blog
Thursday, April 29, 2021
Which compact tractor do you need?

A guide for first time buyers.
Deciding which compact tractor is best for your needs can be a difficult decision. There are many questions: What size compact tractor do I need? What tractor attachments are best? How much will a small tractor cost?
We're here to help you answer all those questions and more. This 3-step buyer's guide will walk you through a few key decision points to help make buying a tractor much easier. After reading through this, you should have a better idea of which tractor is right for you, but if not, our sales experts are happy to help you find the perfect tractor package for your needs.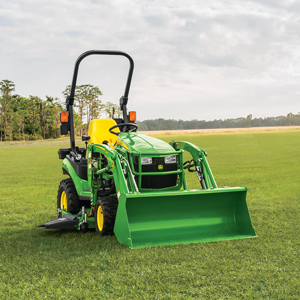 STEP 1: DETERMINING YOUR NEED
First things first: Why do you need a compact tractor? Are you planning to mow, move material or keep your gravel driveway in check? Maybe all of the above. It's important to keep these in mind as each John Deere tractor series is built for different levels of work based on its horsepower and attachment capability.
Let's dive into the options below:
THE JOHN DEERE 1 SERIES
The John Deere 1 series is the perfect machine for property owners with 5 acres or less. This small but mighty machine ranges from 23-25 horsepower and can be customized with hundreds of attachment options, making any job on your to-do list easier. Clear snow, haul mulch, dig holes, level gravel the 1 series does it all.
If you're looking for a tractor that is as easy to drive as a car, then this series is for you. The hydrostatic transmission makes learning how to drive this tractor and using it a breeze. These tractors also feature a drive over mower deck that goes under the belly of the tractor instead of a pull behind mower. This is great for smaller storage spaces.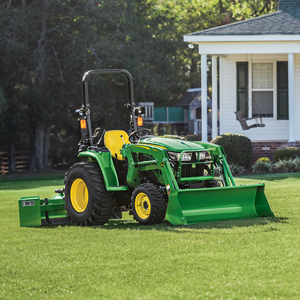 THE JOHN DEERE 2 SERIES
A step up from the 1 series, John Deere 2 series tractors have just a little more horsepower (25-38), more lift capacity and more features. But, they aren't too much bigger in size, which is a bonus for storage space. Just like the 1 series tractors, John Deere 2 series tractors also have a hydrostatic transmission and are compatible with the drive over mower deck.
THE JOHN DEERE 3 SERIES
The John Deere 3 series tractors have a larger range of options which makes the capability and the price of the tractor vary. This series ranges from 25 to 46 HP. Other options include a cab with heat and A/C, backhoe capability, and either hydrostatic transmission or PowrReverser Transmission. With so many options, this tractor can easily be customized for your exact needs.
THE JOHN DEERE 4 SERIES
If you're looking for a machine that can handle large projects with no worries, the 4 series tractor is a great place to start. These tractors range from 44 HP to 66 HP making them capable of much larger jobs than the 1-3 series tractors. So, if you're looking for a tractor with the strength to move round bales, a 4 series could be for you. The PowrReverser transmission allows for clutch-less directional changes. You'll also find additional features like cupholders, color-coded controls and adjustable seats to make your job easier.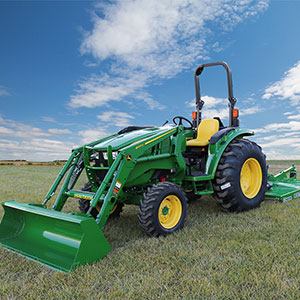 STEP 2: DETERMINING HORSEPOWER, FRILLS AND FEATURES
As you probably noticed each tractor series above has multiple tractors within the family. So how do you know which specific tractor will fit your needs?
First off, horsepower. Now you might be asking yourself: How much horsepower do I need in a tractor?
For mowing and light loader and backhoe work, 20-35 HP is great. If you are looking to lift heavier loads, you'll want to increase the horsepower. To lift a large round bale, you'll need 60 HP or more.
Here's a quick tip to determine how much horsepower a tractor has: the model number includes the series, the horsepower, and the feature level. For example, the 1023E is part of the 1 Family (denoted by the first digit), has 23 Horsepower (denoted by the last three number), and is an economy model with very few added features.
If you're looking for a tractor that has all the frills, then you're going to want to look at a tractor that ends with M or R, these machines are much more feature heavy. If you're more interested in a budget friendly machine, then the E series (E stands for Economy) will suit you just fine.
STEP 3: WHICH ATTACHMENTS DO YOU NEED?
After determining the right tractor, it's time to add on the implements and attachments. After all, a tractor is only as useful as the chores it can finish. Packaging the tractor and implements together is a great way to save some money as we often offer an "implement bonus" if you buy two or more large implements (like a loader and box blade) at the same time. Additionally, buying them at the same time allows you to bundle the financing cost too! With hundreds of attachments, you can customize your tractor to fit any need.
Here are some of the most popular tractor implements and attachments:
Rotary Cutters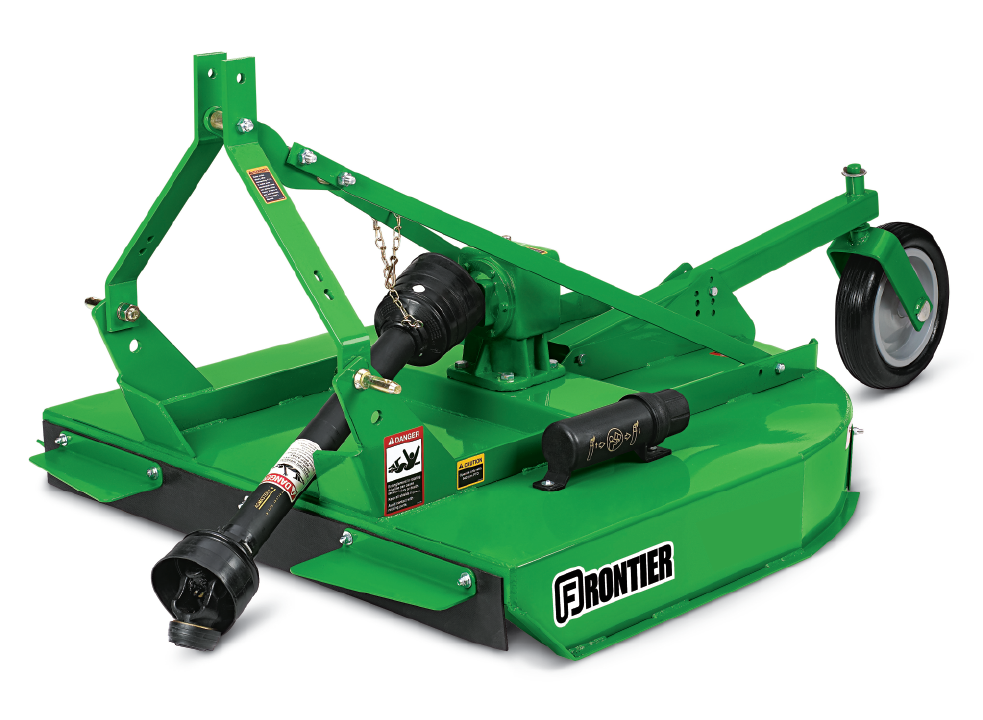 Loader and Bucket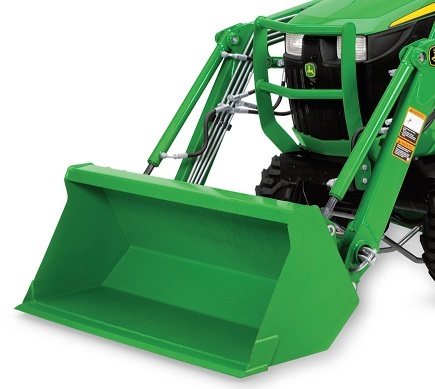 Backhoe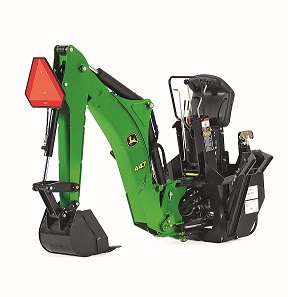 Belly Mower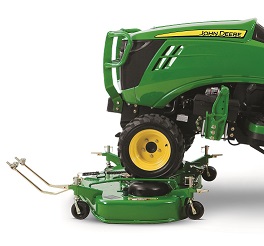 ---
Plus, don't forget to add a few tractor accessories for your comfort and safety!
Canopy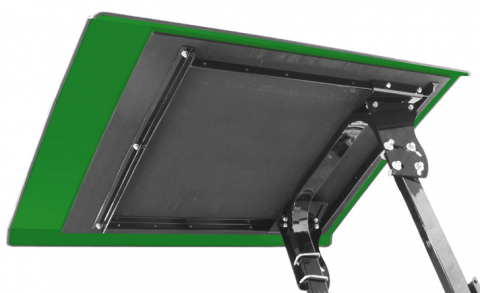 Lights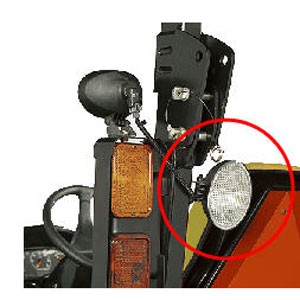 Go Back to List