Best Attachments for Compact Construction Equipment in Kansas
Add More So You Can Do More
Each piece of Compact Construction Equipment is only as good as the attachments added on. Having a shed full of new possibilities will enhance your business' productivity, allowing for more diverse jobs to be taken on. Engineered to boost efficiency on farms, construction sites, warehouses, power plants, backyards and landscapes, our CCE attachments go far and wide to get jobs done here in Kansas.
Masters of Multitasking
Designed to optimize performance, these attachments offer long life and maximum uptime. One of the biggest advantages they have to offer is their versatility. Most John Deere attachments are compatible with a number of different John Deere CCE machines. If you have a fleet of Compact Construction Equipment, this means you won't have to buy attachments for each machine. Contact our team to find which attachments will work best for your equipment.
---
Best Compact Construction Attachments Across all Industries
No matter what job you pull your machine up to, we have an attachment that guarantees easy operation and excellent results. Let's take a look at some of the most popular attachments among our CCE customers here at Heritage Tractor.
Transporting Material
1. Skid Steer Bucket. It's no surprise that buckets are found near the top of our list. Most projects you'll take on require some type of bucket. We carry a wide range including multipurpose, construction, dirt, utility, tooth, rock, grading-heel, foundry and rolling buckets. Available in varying widths and capacities, you'll be able to match your bucket to your operation.
2. A grapple bucket for skid steer is a common customer request. With it's hydraulically-powered claw works to pinch logs, grab debris and drag materials around the land. With an ample grapple opening, you'll be able to save time by taking on larger payloads.
3. Pallet Forks for skid steers. Another handy tool for hauling and transporting is our pallet forks. Available in lengths of 42-, 48-, and 60-inches, you'll find easy work out of loading material.
4. Bale Hugger. With the ability to lift, move and stack both square and round bales up to 2,400-lbs, you'll have an easy time transporting hay around the farm. We also offer square bale tines and round bale spears.
5. Dozer Blades. Built for long-term durability, our dozer blades include reversible cutting edges and skid shoes. This attachment is perfect for transporting, spreading and digging material up on the go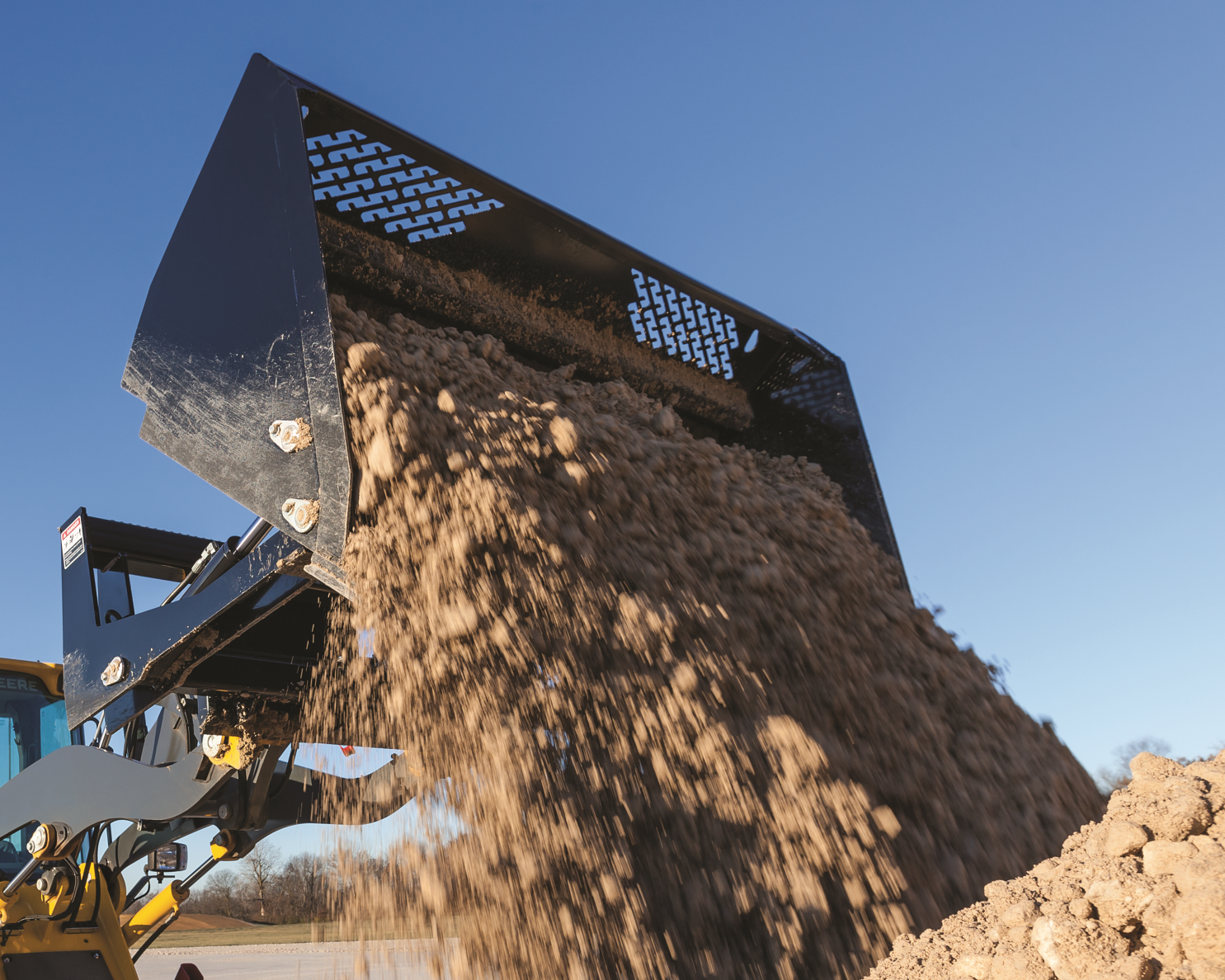 ---
Moving Earth
1. Plate Compactors Engineered to compact trenches, slopes and excavation sites, we have multiple different widths available to match your operation's size.
2. Rotary Tillers Take advantage of heavy-duty tines and a tilling depth of up to 6 inches. Expect higher efficiency when you hook up our rotary tillers.
---
Changing Landscape
1. Mulching Head. Take care of underbrush and small stumps with a mulching head attached to the front. This 60-inch wide rotor includes 30 double carbide-tipped teeth that shred mulch and wood.
2. Power Rakes. This solution helps you prep for sites and seedbeds. With exclusive forward and backward technology, you'll be able to enjoy high performance.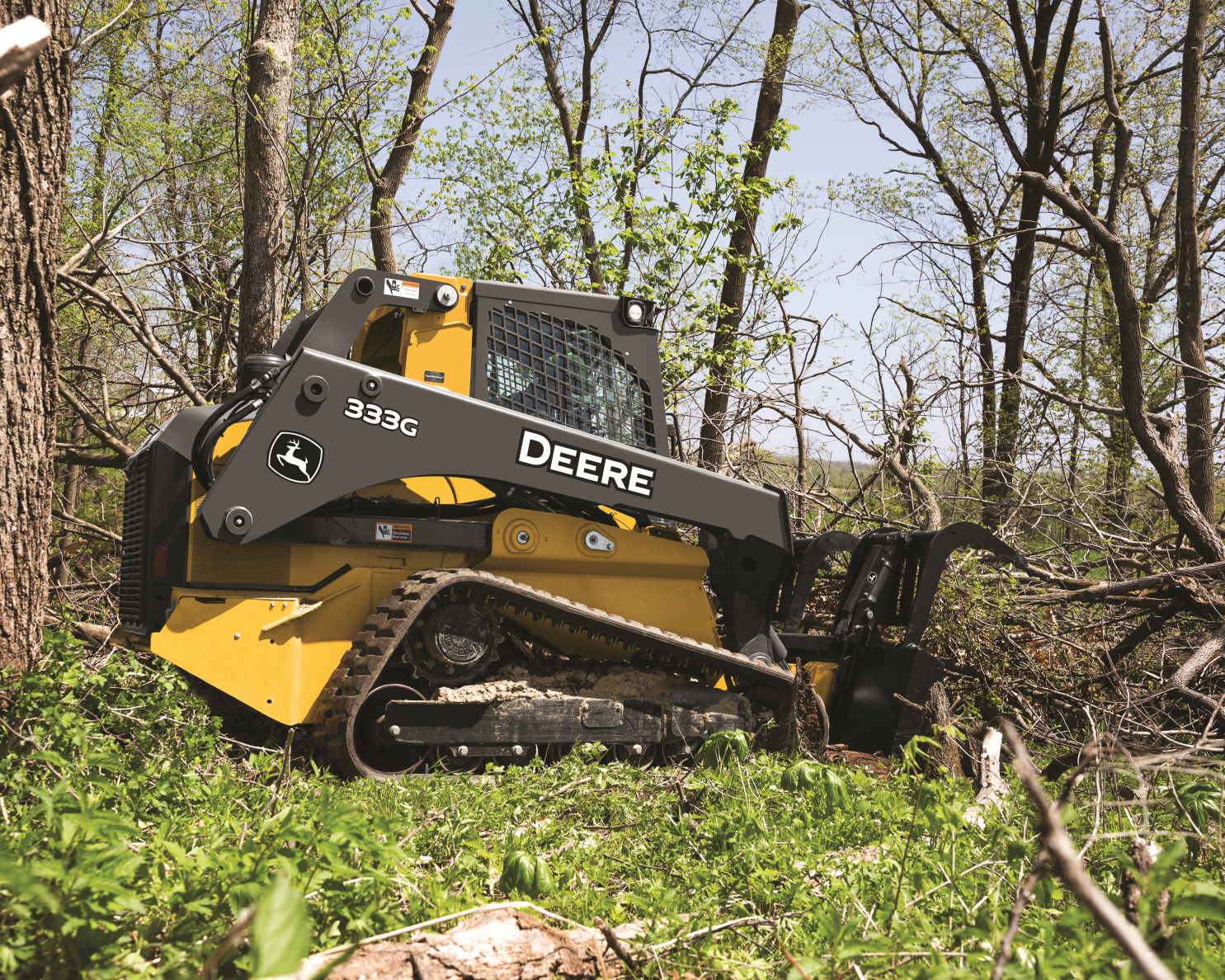 ---
Easy Swaps
Nobody wants to spend their time swapping out attachments. With the universal, self-cleaning John Deere Quik-Tatch, you'll be able to go from a mulching head to a bucket in just seconds. Our customers find this feature extremely convenient, especially when they have a long workday ahead of them.
If you are interested in learning more about the wheel loader, track loader, mini-excavator and skid steer attachments we offer, our team here at Heritage Tractor will be happy to give you the rundown. With years of knowledge and experience, we can help you pick out exactly what you need to boost operation. Contact us through our website or stop by any of our locations in Kansas for a visit!
Are we Nearby? View our Locations in Kansas
Visit our Website and Send Us a Message!